Mathura clashes: Death toll climbs to 24, NBW issued against 'mastermind'
Updated on Jun 04, 2016 12:56 AM IST
The death toll from the violence rose to 24 while police claimed they recovered a cache of arms. The state government has ordered probe even as opposition parties cry foul and demand chief minister Akhilesh Yadav to step down.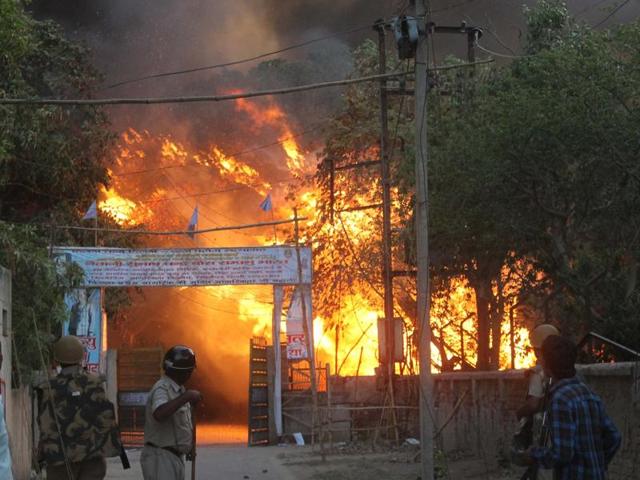 Hindustan Times |
, Mathura
Hemendra Chaturvedi & Prawesh Lama
Twenty-four people, including a superintendent of police, were killed and hundreds injured in clashes between security forces and members of a little-known revolutionary sect armed with sophisticated weapons in Uttar Pradesh's Mathura, officials said on Friday.
The violence erupted when police moved into Jawahar Bagh park on Thursday to evict some 3,000 people claiming to be followers of freedom fighter Subhash Chandra Bose. Among the dead were Mathura SP Mukul Dwivedi and Farah station house officer Santosh Yadav.
Police described the leader of the squatters, Ram Vriksha Yadav, as a man with radical views. The self-styled organisation he led, Swadhin Bharat Vidhik Satyagrah, had a slew of bizarre demands including abolition of elections and the rupee. Late Friday, a Bareilly court issued a non-bailable arrest warrant against Yadav and instructed police to present him by June 20.
Chief minister Akhilesh Yadav admitted the government was taken aback by the amount of firepower the sect possessed.
"There were some lapses. Police should have gone with full preparation and after holding talks, but there was no information they had so much arms and ammunition," he told reporters.
Yadav ordered the divisional commissioner to investigate the violence while the Centre sought a report from the state government.
Read | Death toll in Mathura clashes rises, over 370 nabbed: Key highlights
Union home minister Rajnath Singh spoke to Yadav and assured the state of all help.
Police arrested more than 300 people and recovered a huge cache of arms and ammunition from the park which resembled a war zone the day after. Smoke billowed from huts allegedly burnt down by encroachers to stop police from moving in. Burnt cylinders, unwashed utensils, torn clothes lay scattered among the burnt out huts.
"Twenty-two of their people died, 11 of them died of burn injuries. One of the dead is a woman," UP Police chief Javeed Ahmad said in Mathura, a holy city believed to be the birthplace of Lord Krishna.
Residents said the sect members had taken over the park gradually since 2014, turning it into a self-sufficient residential colony with its own vegetable gardens and grocery shops. The sect even has its own tractors to ferry rice and other goods for the families.
"They were mostly from Madhya Pradesh, Bihar and West Bengal. There were families staying in jhuggis inside the park but now there is not a single person to claim the bodies," said a police officer.
The incident sparked a political blame game with the opposition attacking the government for a massive intelligence failure. The BJP demanded a judicial probe.
Residents said the sect members had clashed with lawyers a couple of months ago while attempting to occupy a portion of the Juvenile Justice Board and tehsildar's office building. When police resisted, two police vehicles were torched and other government vehicles damaged.
Amid calls for a CBI investigation, the ruling Samajwadi Party said the state government was capable of handling the matter.
"It has already instituted a probe into the incident and no one responsible for the incident will be spared," senior minister and SP state in-charge Shivpal Singh Yadav said.
Responding to Bahujan Samaj Party president Mayawati's demand for CM Yadav to step down, Shvipal countered: "So many heinous incidents took place in her government, did she quit?"