Meet the Bastar girls taking on security forces over extra-judicial encounters
Updated on Jan 13, 2018 08:23 PM IST
Suneeta Pottam and Munni Pottam have filed a case against extra-judicial encounters allegedly by security forces, and have asked the Supreme Court to take it up.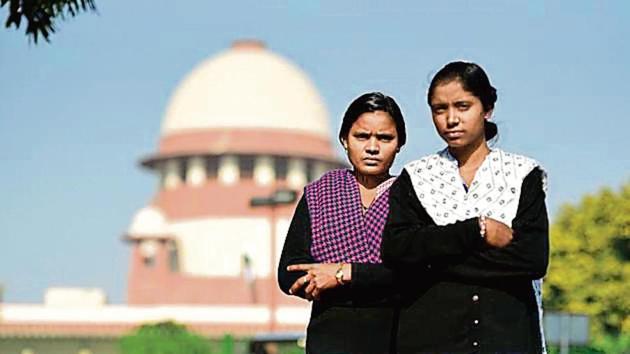 Suneeta Pottam was only 10 when she was questioned by a policeman for the first time. She was at a market with her elder sister, a two day walk from her village of Korcholi in Bastar division, Chattisgarh. The distrust of the police was so high that she had to think on her feet and lie about which village she belonged to. "Mujhe darr bilkul nahi laga tha par. Maine saare jawab diye unke (I didn't feel scared. I answered all their questions)," says Suneeta.
On Jaunary 9, Suneeta (20) and friend, Munni Pottam (19) arrived in Delhi for the first time after a marathon 38-hour journey. They were in the city to ask for a transfer of their case against extra-judicial encounters allegedly by security forces to the Supreme Court.
In the conflict-ridden villages of Bastar, life is not what you make of it but what the state makes it for you. Suneeta had to stop studying after class 4, when her school building became a Salwa Judum camp. The following year, several houses in their village were burnt in a Salwa Judum attack. As children, both of them watched villagers being beaten by security forces that would pass through. These injustices, considered routine, the villagers had learnt to live with.
But in 2015, when the security forces gunned down a man from the neighbouring village declaring him a Maoist, Suneeta says she felt an impotent anger. However, no media came to ask them what had happened or how they felt. A few months later, a team of Women Against Sexual Violence and State Repression (WSS) found its way to the village and Suneeta along with Munni became narrators of the stories of their village, in their halting hindi.
"Jab humne pehli baar WSS se baat kiya, toh doosre gaon ke log hamare paas aane lage apne kahaniyan leke (Ever since we spoke to WSS, people from other villages began to approach us with their stories)." says Munni. In September 2016, armed with these stories, the girls first approached the Bilaspur High Court through the Jagdalpur Legal Aid Group.
Following this the girls claim, they are regularly harassed by the local police. On December 22, 2017, women from three villages, including Khorcholi marched to the collector's office in Bijapur to complain about sexual harassment and beating of 20 women allegedly by security forces a day earlier. A week later, Suneeta and Munni met with police officials to follow up on the complaint. "They called us Naxals and asked us who has taught us all this. I told him that it was the villagers who wanted this," Suneeta claims. In their Supreme Court petition, they have also requested protection from police harassment.
MR Ahire, the Bjiapur Superintendent of Police, incharge of the district anti-Naxal operations denied the allegation. "There is no question of threatening them. I assured them that we will investigate and take action. A DSP is looking into the matter," he said.
In Delhi, Suneeta and Munni addressed a packed press conference confidently, apologizing for their accented hindi. Out on a road they laughed about the cold which they hadn't prepared for. When asked for a photograph, they stood straight with hands folded across their chest and stop smiling.
At the Supreme Court, they looked around in awe and are drawn to the big yellow dahlias lining the steps. Inside the courtroom, they stood in the visitor's gallery at the back while the lawyers pleaded their case in English – a language neither of them understands. In under 10 minutes, the court directed the petition be heard by a different bench next month for a decision.
After this is explained to them, the girls whispered amongst each other if they have to come back again. They had left home on December 27, with four pairs of clothes each, a patta of tiny black bindis, a packet of green chillis and Rs. 1500. Their families don't even know that they are in Delhi as there is no mobile network. Suneeta says, "Aur kuch nahi maangte, na muafza na kuch. Bas doshi police walon ko saza mile (We don't want anything, not even compensation. We just want those responsible for the killings to be punished)."
Close Story
Personalise your news feed. Follow trending topics