Mehbooba asks Kashmir separatists, parties to unite for Article 35 A
The former Jammu and Kashmir chief minister, while addressing people at Sheri Kashmir Park in Srinagar on the 19th foundation day of PDP, said the regional parties need to bury their differences for state's special status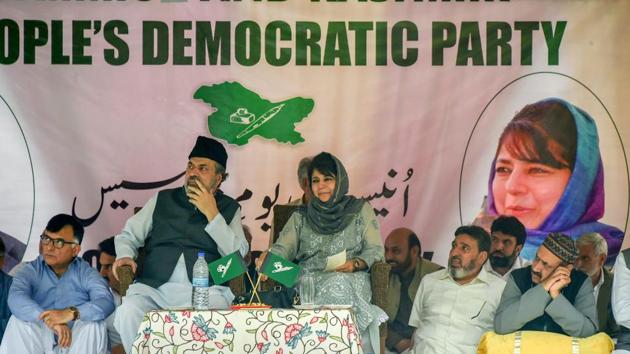 Updated on Jul 28, 2018 11:21 PM IST
Hindustan Times, Srinagar | By Ashiq Hussain
Amid fears of tinkering with special status of Jammu and Kashmir, Peoples Democratic Party (PDP) president Mehbooba Mufti on Saturday urged separatists and mainstream parties to join hands to defend Article 35 A.
The Supreme Court will on August 6 hear a petition on challenging the validity of the Article 35A of the Constitution, which empowers the state's legislature to define "permanent residents" of the state and provide special rights and privileges to them.
The former Jammu and Kashmir chief minister, while addressing people at Sheri Kashmir Park in Srinagar on the 19th foundation day of PDP, said the regional parties need to bury their differences for state's special status.
"I am informing to all the parties like separatists, National Conference, Congress that our biggest challenge is Article 35 A. We should forget our differences and come together to defend Articles 35 A and 370 just like we did for the past two years," she said.
Her statement comes a day after moderate separatist leader Mirwaiz Umar Farooq warned of massive agitation if special rights accorded to the state under the Constitution were taken away.
Mirwaiz accused the BJP and the RSS of changing the demographic nature of Jammu and Kashmir by doing away with the state subject law. National Conference's Farooq Abdullah too had warned last year of "mass agitation" if the law was repealed.
During the PDP-BJP rule, Mehbooba had promised to defend the Article 35 A in the apex court. After the two split and Mufti resigned, separatists and mainstream parties feared the state will not defend its case as the BJP and RSS were opposed to it.
Close Story