Mehul Choksi repatriation: Private jet in Dominica is from India, confirms Antigua PM
Published on May 30, 2021 09:27 AM IST
The Indian government seems to be going all out to make sure Mehul Choksi is repatriated to India to stand trial, Antigua Prime Minister Gaston Browne said.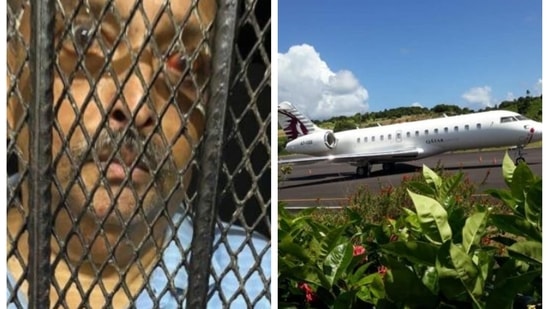 Antigua Prime Minister Gaston Browne confirmed that a private jet from India arrived at Dominica's Douglas-Charles Airport as Indian fugitive Mehul Choksi continues to be in a quarantine facility in Dominica. The picture of the jet was posted on Antigua Newsroom. "My understanding is that Indian government has sent certain documents from courts in India to confirm that he is indeed a fugitive and my understanding is that the documents will be utilised in the court case as you know the judge in Dominica has put a stay on deportation till Wednesday. So Indian government seems to be going all out to make sure he is repatriated to India to stand trial," Browne said to an FM channel.
A Bombardier Global 5000 jet of Qatar Executive landed at Dominica's Douglas Charles airport on Saturday. It's publicly accessible flight path shows that it took off from New Delhi on May 28 and reached Dominica via Madrid.
On Saturday, the first photos of the multi-crore PNB scam-accused were released where he could be seen behind the bars, with an eye swollen, bruises on his arm. These were the first public photos of Choksi in the last three years that he spent in Antigua as a legal citizen after he fled India before the scam surfaced.
Also Watch | Mehul Choksi's 1st photo in 3 yrs; Antigua PM confirms Indian jet in Dominica
Mehul Choksi was apprehended by Dominica Police on Wednesday after he reportedly on missing on Sunday evening. Since then, he has been in the custody of the Dominica Police. Antigua PM earlier said that he won't accept Choksi back in his country and he wants him to be repatriated straight to India where he is wanted. Dominica court, however, has put a stay on his deportation. The case will be heard again on June 2.
Going by Antiguan PM's indication, the Indian government may present some document during the hearing.
India does not have a repatriation agreement with Dominica and hence whether he will be deported to India will depend on the government's decision. Dominia's acting police chief Lincoln Corbette earlier said that he will be deported to Antigua and not to India.
Choksi's legal team in Dominica, comprising Julian Prevost, Wayne Norde, Cara Shillingford-Marsh, and Wayne Marsh, filed a habeas corpus petition in the Eastern Caribbean Supreme Court on Friday highlighting that he should be given access to his lawyers, which the court granted.
It is not yet clear how Choksi landed at Dominica, 188 km from Antigua, while his car in which he was last seen was found in Antigua. His lawyers have claimed that he was abducted and was severely beaten up.
The episode has kicked up a storm in Antigua's internal politics as the prime minister accused the opposition party of receiving funds from Choksi.
Personalise your news feed. Follow trending topics