Choksi's 1st photo in 3 yrs emerges as next stop bursts a controversy in Antigua
Updated on May 30, 2021 06:36 AM IST
In the photos put out by the media outlet, Antigua Newsroom, Mehul Choksi is seen behind bars, his eyes swollen in one.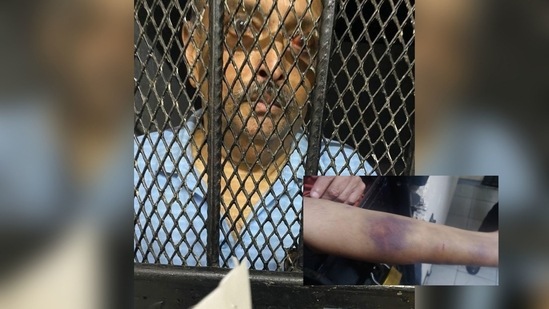 , Hindustan Times, New Delhi
Neeraj Chauhan
A media outlet late on Saturday released two images of fugitive businessman Mehul Choksi while in the custody of the authorities in the Caribbean nation of Dominica, where the billionaire diamantaire mysteriously surfaced this week after going missing from Antigua and Barbuda, his home for the last three years.
Also Read : Mehul Choksi repatriation: Private jet in Dominica is from India, confirms Antigua PM
In the photos put out by the media outlet, Antigua Newsroom, Mehul Choksi is seen behind bars, his eyes swollen in one. In one more photos, he is seen showing bruises on his arm. It is not clear if Antigua Newsroom took the photos or these were accessed via Mehul Choksi's legal team. To be sure, Choksi's lawyers have alleged the businessman was abducted from Antigua, whose citizenship he holds, taken to Dominica where he was arrested to facilitate his repatriation to India.
Choksi faces multiple charges of embezzling funds from the state-owned Punjab National Bank in India; the fraud is worth some ₹13,500-crore. He had acquired citizenship of Antigua under its Citizenship by Investment Programme (CIP) in November 2017, weeks before investigations by the Central Bureau of Investigation started.
Also Read: Choksi's 1st photo in 3 yrs emerges as next stop bursts a controversy in Antigua
Choksi's legal team promptly filed a habeas corpus plea in the Eastern Caribbean Supreme Court that has barred authorities from removing him from the country until further orders. The court will take up the case on June 2. Choksi was released from police custody on Friday following the court order and has been moved to a quarantine facility
In the only official statement that had emerged from Dominica's capital Roseau before the court's interim ruling, the authorities had made it clear that they were checking Choksi's citizenship papers and were likely to send him back to Antigua 100 nautical miles away. The statement was interpreted to end speculation that Dominica could deport Choksi to India, prompted in part due to Antigua's Prime Minister Gaston Browne's statement that he didn't want Choksi back.
Also read: Antiguan oppn party hits out at PM Browne, seeks to treat Choksi as citizen
"We asked them (Dominica) not to repatriate him to Antigua. He needs to return to India where he can face the criminal charges levelled against him", Browne told journalists soon after Mehul Choksi turned up on the Dominican coast.
That remark also exposed PM Browne to sharp attacks from the opposition United Progressive Party (UPP), which, according to reports in Antigua Newsroom, insisted that since Choksi was an Antiguan citizen, he was entitled to due process and should be treated according to the rule of law.
Browne hit back at the UPP. "After mischievously accusing my administration of harbouring Mehul Choksi, who has an Interpol Red Notice, they are now seeking to sanitise this fugitive to get campaign funding...There has been no violation of Choksi's legal and constitutional protections, despite the decision of my administration to revoke his citizenship."
Referring to Browne's statement, the UPP said: "The statement is both irresponsible and frightening. It is not for the prime minister to decide who is entitled to the protection of the constitution." Choksi's lawyers have said that their client enjoys legal protection as a citizen.
Topics
Personalise your news feed. Follow trending topics