'Members can hold any view': BJP distances itself from Som's Taj Mahal remarks
At a meeting in western Uttar Pradesh's Meerut on Sunday, BJP's Som had attacked those concerned about the absence of the Taj Mahal from a list of historical places in state's official tourism booklet.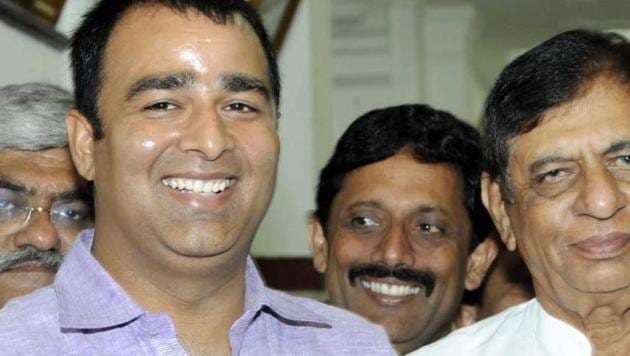 Updated on Oct 16, 2017 09:17 PM IST
Hindustan Times, Lucknow/Meerut |
HT Correspondents
The BJP-led Uttar Pradesh government distanced itself on Monday from controversial comments by firebrand MLA Sangeet Som, who questioned the Taj Mahal's place in history and said the iconic monument was built by "traitors" who targeted Hindus.
The saffron party also appeared to disown the Sardhana legislator's remarks and called his comments on the 17th century structure his "individual view".
"The chief minister has made it clear that the Taj is part of our heritage. My government has already sanctioned Rs 155 crore for the development of parks and various facilities in and around Taj," said state tourism minister Rita Bahuguna Joshi.
When asked what she made of the BJP lawmaker's claims, she said, "Well, every individual is free to make an opinion but as far as the government is concerned Taj is very much on our priority list."
At a meeting in western Uttar Pradesh's Meerut on Sunday, Som had attacked those concerned about the absence of the Taj Mahal from a list of historical places in state's official tourism booklet.
"Many people were pained to see that the Taj Mahal was removed from the list of places. What type of history are they talking about? Is it history that the person (Shah Jahan) who built the Taj Mahal imprisoned his father? He targeted Hindus in Uttar Pradesh and Hindustan," he claimed.
In fact, Shah Jahan never imprisoned his father Jehangir. It was Shah Jahan's son, the sixth Mughal emperor Aurangzeb, who placed him under house arrest at Agra Fort.
"Unfortunately, we included the names of these traitors (Mughals) in our history books but now it will be changed," Som told the crowd, calling upon the people to support the government in "correcting" history books. ""Invaders of India have been glorified in history.
A Unesco World Heritage Site, the Taj Mahal draws crores in annual revenue but has received a barrage of negative comments in recent months from top BJP leaders, including chief minister Yogi Adityanath – who in June said the ivory-white marble mausoleum didn't represent "Indian culture".
This is not the first time the MLA has courted controversy. He was implicated for his provocative statements in the Muzaffanagar riots of 2013 that claimed at least 60 lives and displaced 50,000 people. A commission indicted Som in 2015 for provocative speeches but earlier this year, a Special Investigation Team probing the riots cleared him in connection with a fake video said to be one of the triggers for the riots. In the run up to the state elections earlier this year, he was also charged with instigating communal hatred after his supporters screened a documentary that allegedly polarised voters. The BJP leader was also accused of stoking communal tensions in Dadri's Bisada village after the 2015 mob lynching of Mohammed Ikhlaq.
Som's comments stirred a controversy on Monday with many saying the BJP leader was targeting India's top tourism draw for communal reasons.
Former Jammu and Kashmir chief minister Omar Abdullah tweeted, "No more Red Fort speeches on August 15. The PM will address the nation from Nehru Stadium...will fill some hearts with unabashed glee."
"Even Hyderabad House in Delhi was built by "Traitor", will Modi stop hosting Foreign Dignitaries?," asked All India Majlis-e-Ittehadul Muslimeen president Asaduddin Owaisi.
Even the BJP appeared to not back Som. The party's spokesman GVL Narasimha Rao described Muslim rule as "barbaric and a period of incomparable intolerance", but said members could hold whatever opinion they had.
Uttar Pradesh BJP leader Harish Srivastava added that there was more to the state than the Taj Mahal. "When we speak of development of Ayodhya many see red. But any statement on Taj makes national headlines."
Som's Sunday meeting in Sisauli village was skipped by several BJP leaders, including the local BJP MLA Satyaveer Tyagi. But that didn't appear to dampen the spirits of the 39-year-old lawmaker.
"It is unfortunate that the names of Babar and Akbar are associated with the land of Lord Ram, Lord Krishna and Baba Vishwanath. These invaders crossed all limits of tyranny," he said.
(with agency inputs)
Close Story
Personalise your news feed. Follow trending topics