Meo community demands arrest of Rajasthan MLA in Rakbar Khan lynching case
Updated on Jul 29, 2018 09:58 PM IST
The Rajasthan MLA demanded the release of the three accused, arrested in the case, saying that the victim had died due to dereliction of duty by the police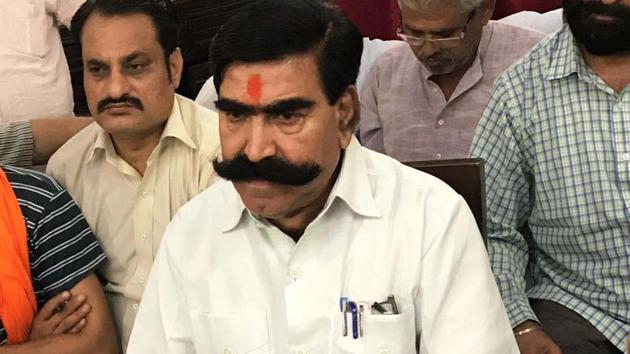 Jaipur |
Press Trust of India
The Meo community on Sunday demanded the arrest of BJP MLA Gyan Dev Ahuja, accusing him of being involved in a conspiracy of lynching of Rakbar alias Akbar Khan by a mob in Alwar.
"The demand was made at a Meo community's mahapanchayat in the victim's village in Haryana's Nuh district, which is close to the Rajasthan border," said Alwar's Mev Panchayat leader Sher Mohammad.
Mohammad demanded that the MLA be booked for hatching the lynching conspiracy and be arrested, saying that he "gave provocative statements after the lynching and supported the accused."
The Mev panchayat leader also demanded that Naval Kishore Sharma, who, he said, was present at the spot during the lynching and had informed the police, be made the main accused in the case.
Other demands which were raised in the mahapanchayt included a compensation of ₹50 lakh to the victim's family, a government job to his wife and a probe by the SIT in the case, said Mohammad. Those who attended the mahapanchayat held today in Haryana, included farmer leader Yogendra Yadav.
On the other hand, MLA Ahuja today visited Lalawandi village in Alwar where the lynching had taken place on the intervening night of 20-21 July.
The MLA demanded the release of the three accused, arrested in the case, saying that the victim had died due to dereliction of duty by the police.
"I visited the village and held a meeting with the people at a temple in Lalawandi. The victim died due to dereliction of duty by the police. The three accused who have been arrested should be released now. I told the villagers that I would assist the families of those, who have been arrested, in fighting the legal battle," the MLA said.
The BJP MLA represents Alwar's Ramgarh assembly constituency where the incident occurred.
Asked about the Meo panchayat's demand for his arrest, the MLA said he was not bothered about that.
"Akbar and Aslam were smuggling cows. Aslam too should be arrested now for smuggling the cow," Ahuja said.
The legislator said he was out of Alwar for the last two months.
28-year old Akbar and his friend Aslam, both hailing from Nuh in Haryana, were taking two cows through forest during the night when a group of villagers caught them in Lalawandi village in Ramgarh area and allegedly beat them up on suspicion of being cow smugglers.
Though Aslam managed to escape from there, Akbar succumbed to his injuries before the police could take him to the hospital.
The police later suspended ASI Mohan Singh of Ramgarh police station and transferred three constables to the police lines on grounds of laxity in discharging their duty.
Home Minister Gulabchand Kataria too had visited the spot in Alwar on July 24 and ordered a judicial probe.
Personalise your news feed. Follow trending topics