Mizoram election result 2018: MNF extends early edge, Congress way behind in last northeast bastion
Mizoram election result 2018: Chief Electoral Officer Ashish Kundra said that counting was taking place at 40 counting halls in 13 centres across the mountainous state. The polls were held on November 28.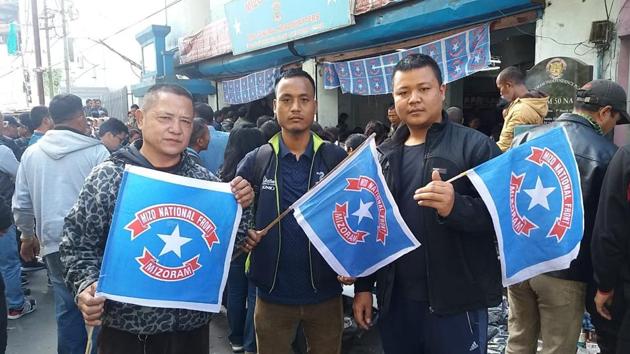 Updated on Dec 11, 2018 02:13 PM IST
The Mizo National Front (MNF) , which had been out of power in Mizoram since 2008, was leading in 29 seats, way ahead of the ruling Congress with six as counting of votes in the Mizoram assembly polls took place on Tuesday. Voting to elect a new 40-member assembly had taken place on November 28.
The Bharatiya Janata Party (BJP) which was trying to make inroads in the predominantly Christian state but had never won any seat there in the last few elections was leading in one constituency, while the Zoram People's Movement (ZPM), formed last year after seven small parties came together, and others on four seats, as per trends available at 12 pm.
Mizoram CM Lal Thanhawla, who has been heading the state since 2008 and was looking for an unprecedented third term, lost in both the constituencies he was fighting from. In Champhai South, he was defeated by T J Lalnuntluanga of the MNF by over 1000 votes and lost Serchhip constituency Lal Thanhawla to ZPM's Lalduhoma by a slim margin of 410 votes.
MNF chief Zoramthanga was ahead in the Aizawl East (i) constituency.
The mood in the MNF head office was upbeat as party workers sitting around a large television screen showing the trends clapping enthusiastically and some breaking into dance with announcement of trends in each seat.
"We have worked hard for this day and are very happy at the outcome. We are confident of forming the government on our own. The voters were fed up of Congress misrule in the past 10 years," party worker C Lalrinpuii said.
Click here for Mizoram election results 2018 LIVE updates
On the other hand, the mood at the Congress state office just a few metres away was sombre and quiet as party workers sat huddled in groups trying to make sense of the negative trends
"Our poor show was the outcome of anti-incumbency. Improper distribution of tickets and 5 of our MLAs leaving the party ahead of the polls also played a part," senior Congress leader and Lok Sabha member CL Ruala said .
While the BJP's Buddha Dhan Chakma was ahead of his MNF rival in Tuichawng, the party's state president JV Hluna has just got 543 votes after two of the three rounds of counting in Tawi, while former speaker Hiphei who quit the Congress to join the BJP, was trailing behind the Congress and the MNF candidates in Palak.
Click here for Election results 2018 LIVE updates
Chief Electoral Officer Ashish Kundra said that counting began at 8 am in 40 counting halls in 13 centres across the mountainous state under a three-tier security cover.
Postal ballots were counted first before counting of votes of EVMs (Electronic Voting Machine) began simultaneously for all the assembly constituencies,he had told the media earlier in the morning.
Close Story