MLA levels sedition charge against Bihar Cong minister
Mar 28, 2017 01:26 PM IST
BJP MLA Nitin Navin has accused Bihar minister Abdul Jalil Mastan of spreading hatred and disturbing social harmony and peace. The BJP lawmaker has also questioned the minister's citizenship.
A case was registered at the Kotwali police station here on Thursday against Bihar minister Abdul Jalil Mastan for allegedly asking a crowd at a public rally to hit the photograph of Prime Minister Narendra Modi with shoes.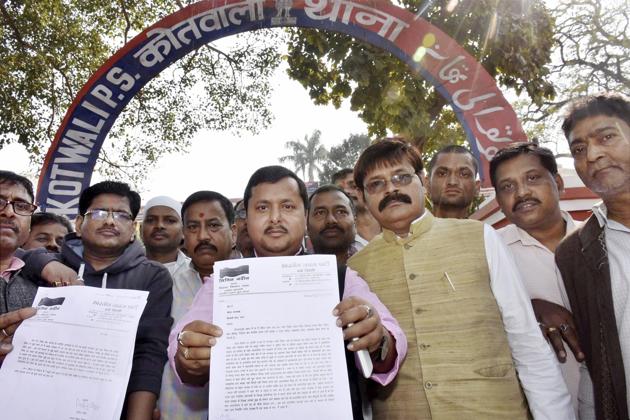 The rally was organised against the Prime Minister's demonetisation move at Mastan's Amour assembly constituency in Purnia district, 370 km from state capital Patna, on February 22.
Bankipore (Patna) MLA Nitin Navin, who lodged the case, accused Mastan of spreading hatred and disturbing social harmony and peace. In his complaint, the BJP lawmaker also levelled sedition charges against the minister and questioned his citizenship.
"The police should also investigate if Mastan, who is the excise and prohibition minister in Bihar government, was an Indian citizen," Navin later told HT.
Kotwali station house officer Ram Shankar said the MLA's complaint had been forwarded to the Amour police station.
Earlier, a video clip showing Mastan calling his supporters to "punish" Modi had kicked up a controversy, with a fuming BJP demanding his dismissal from the Nitish Kumar cabinet.
After raking up the controversy, Mastan had on Wednesday tendered an apology stating that his assertion was not aimed at hurting anyone.
"I apologise if my statement or statements of my people have hurt anyone," he said.
Meanwhile, a complaint case has been filed in a Hajipur court against Mastan, adds PTI.
Rajiv Kumar Sharma, advocate in Hajipur civil court, filed the complaint case against Mastan and four others in the court of chief judicial magistrate Jai Ram Prasad with a plea that he was hurt by the minister's remarks and hence a case of sedition be lodged against him (minister).
In his petition, Sharma said he saw the minister's footage on various TV channels on Wednesday and was hurt by Mastan's remarks.