'MLAs sold themselves when CM was hospitalised': Aaditya Thackeray| Top 10
Published on Jun 28, 2022 06:45 AM IST
Maharashtra political crisis: The political high drama continues to intensify even as Maharashtra deals with Covid surge and Assam tackles floods.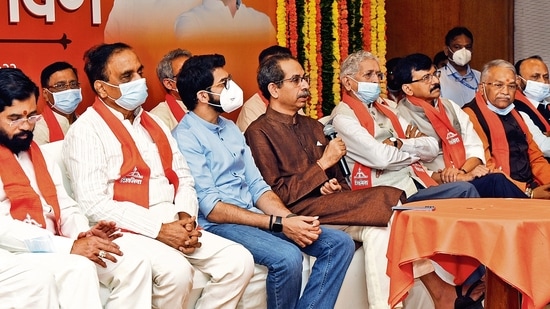 Maharashtra minister Aaditya Thackeray on Monday was at the Maha Vikas Aghadi government forefront amid coup by MLAs that has triggered one of the biggest challenges for the Shiv Sena-NCP-Congress combine in 2.5 years. Hours after the Supreme Court gave a notice to deputy speaker Narhari Sitaram Zirwal over the contentions of rebel leader Eknath Shinde and 15 others from his breakaway faction, Chief minister Uddhav Thackeray's 32-year-old son gave a rousing address to his party workers and questioned the moral standards being followed by the breakaway faction.
Here are the ten latest points on the Maharashtra crisis:
1. Days after one of the rebel leaders alleged that they had no access to the chief minister, Aaditya Thackery on Monday night linked the switching of loyalties to Uddhav's illness in the past. "When the chief minister was hospitalised, they (rebel MLAs) sold themselves. I would like to ask them... is there no humanity left? We trusted them," he was quoted as saying by news agency ANI.
2. He also claimed that some of the legislators wanted to be brought back. "Around 15-20 MLAs are in touch with us. They call me and Shiv Sainiks and urged us to bring them back from Guwahati. Their situation is like a prisoner, first in Surat (where the rebels landed after leaving Mumbai last week) and then in Guwahati," Aaditya Thackeray said, underlining that the Uddhav government would prevail.
3. Eknath Shinde has said that a majority of 55 Sena MLAs are now with him. In the Supreme Court in a petition, he claimed on Monday that the Maha Vikas Aghadi government has lost majority.
4. "Haste can lead to undesirable consequences," the Supreme Court told the Maharashtra deputy speaker, two days after disqualification notices were sent to Shinde and 15 in his camp. The next hearing in the top court is scheduled for July 11.
5. On being asked why did the MLAs not choose to go the high court first, they cited threat "to us and our families". Last week, they were given Y category security by the central government.
6. Meanwhile, in a bid to broker peace, a group of Sena leaders reportedly held talks with Shrikant Shinde, Eknath Shinde's son.
7. Another leader who has been at the forefront of the crisis handling for the MVA government has been Sanjay Raut. He has been called by the Enforcement Directorate on Tuesday in a money laundering case.
8. However, he continued to be defiant. "I just came to know that the ED has summoned me. Good ! There are big political developments in Maharashtra. We, Balasaheb's Shivsainiks are fighting a big battle. This is a conspiracy to stop me. Even if you behead me, I won't take the Guwahati route. Arrest me! Jai Hind! (sic)", he tweeted soon after the summons.
9. Uddhav Thackeray has re-allocated portfolios of nine rebel ministers, including Shinde as the coup continues.
10. The political drama has unfolded at a time when Maharashtra is dealing with a surge in Covid cases and Assam - where the MLAs are camped is tackling floods. "They (rebel MLAs) went to Guwahati where there's a flood situation and many people are without shelter & food. They (rebel MLAs) are enjoying there. Bill for meals (for them) in one day is ₹9 Lakhs, they are taking private choppers and enjoying there. Shame on them," Aaditya Thackeray said on Monday.
Close Story
Personalise your news feed. Follow trending topics