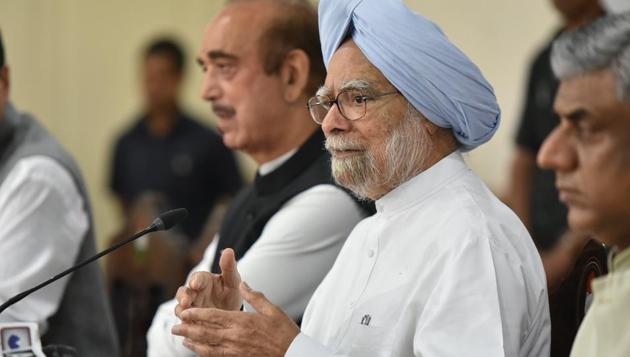 Modi's economic policies disastrous, says Manmohan Singh
Former PM Manmohan Singh attacked the Modi government over a series of banking frauds, saying the money swindled almost quadrupled from Rs 28,416 crore in September 2013 to Rs 1.11 lakh crore in September 2017.
UPDATED ON MAY 07, 2018 11:28 PM IST
Former prime minister Manmohan Singh on Monday attacked Prime Minister Narendra Modi over the state of India's economy, saying the country was facing crises that were avoidable.
"Our nation today is experiencing difficult times. Our farmers are facing an acute crisis, our aspirational youth are not finding opportunities, and the economy is growing below its potential. The unfortunate truth is that each of these crises was entirely avoidable," he said, addressing a press conference in Bengaluru ahead of the May 12 state polls.
Singh said it pained him to see the government stifle dissent when deficiencies were pointed out, rather than stand up to challenges. The former prime minister said it was important to pay careful attention to policy making as it affected people's lives, and, hence, it was crucial to not act on "mere whims and fancies".
"The United Progressive Alliance delivered an average growth rate of 7.8% despite turbulent global conditions. The NDA, on the other hand, has managed lesser growth rate despite a favourable international climate and low oil prices. In fact, growth rate under the NDA is lower in spite of the change in methodology, which paints a rosier picture than reality," Singh said.
Singh criticised the move to demonetise high-value currency and the "hasty implementation of GST (goods and services tax)", calling them blunders that severely affect micro, small and medium enterprises, causing "the loss of tens of thousands of jobs" in the process.
He also criticised the government for not passing on the reduction in international crude oil prices to consumers. "In spite of lower global crude oil prices, petrol and diesel prices are at a historic high because Modi government chooses to levy excessive excise taxes. Instead of passing on the benefits of low prices to the people, the Modi government has punished the people," he said.
Singh said it did not behove the office of the prime minister for Modi to make adverse comments on opponents. "No other prime minister has used the office in such a manner," he said.
Refuting the charges, state BJP spokesperson S Prakash claimed the former PM had left a depleted economy for the current government. "We have tried to rehabilitate the economy and are doing so successfully," he said.
Prakash said Congress had no answers to Modi's charisma and as a result was saying he was using foul language. "Indira and Rajiv Gandhi also used to campaign just as much for their parties. When it comes to language, Singh should take a look at the way the chief minister and some of his colleagues speak about the prime minister," he said.
At the Bengaluru speech, Singh said since 2014, international crude oil prices had declined to 67%. "However, petrol and diesel prices have on average increased at 110% on both these products. Through constant increase in taxes and at the cost of the common man, the government is projected to have earned over Rs 10 lakh crore. India must demand answers as to what use this money was put to," he said.
The former prime minister said banks were neither lending nor was the private sector borrowing. "The growth engines of the economy are spluttering. Perhaps it is here that the mismanagement of the Modi government is most evident," he said.
"The proportion of gross non-performing assets (NPAs) trebled since Modi assumed office and frauds in the banking sector almost quadrupled from Rs 28,416 crore in September 2013 to Rs 1.11 lakh crore in September 2017," Singh said, adding the "perpetrators of these frauds escape with impunity". He said it was the government's duty to have dealt with the NPAs, questioning why Modi attended an event in Davos where jeweller Nirav Modi was present.
Singh said the recent shortages of cash were preventable, but "instead of taking prompt corrective action, the government has been busy providing excuses and peddling conspiracy theories as to what led to the problem."
"What took years of hard work to make the Indian economy the third largest in the world is being dismantled through systematic efforts that have no grounding in logic," the former PM said.
"When asked to explain reasons for economic ills of the last four years, Prime Minister Modi tends to blame everything on the 70 years of Congress rule. He forgets the role of the Green Revolution. He does not mention the role of policies of economic liberalisation of the 1991-96 in transforming the industrial economy," he said.
Singh said development of cities required sustained funds and innovation. "Instead, the Modi government has been content to simply come up with catchy tags like AMRUT and Smart Cities, which have underperformed spectacularly," he said.
Contrary to Modi's assurances, Singh said, in the age group of 15-24, about 7.2 million jobs were lost over the last four years.
"This usually happens when external factors are unfavourable. However, job destruction in India is due to mismanagement on the part of Modi and his team. True leadership creates opportunities, it does not destroy them," the former prime minister said.
Singh warned that the country's position as an IT superpower was under threat. "The situation could get worse if the Modi government fails in its duties at protecting H1, H4 and L1 visas for our professionals," he said.
"Reduced budgets, administrative takeovers, and harassment of students and dissenting voices are a violation of our Constitutional norms. It does not help that ministers in Modi's cabinet and even BJP chief ministers regularly make comments promoting irrationality," he said.
Close