On Thursday, the Shiv Sena backed the NCP chief to possibly succeed Congress president Sonia Gandhi as the chairperson of the grand old party-led alliance.
As a senior politician, NCP chief Sharad Pawar could get more parties into this anti-BJP front, said Sena's Rajya Sabha MP and spokesperson Sanjay Raut.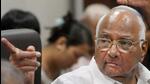 By
HT Correspondent I Edited by Shilpa Ambardar
, Mumbai
The BJP MP's remarks came days after Congress MP P Chidambaram called the National Democratic Alliance (NDA) a 'no data available' government in Parliament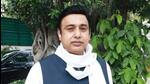 Congress suggest the Shiv Sena might back the party in the state elections early next year

Congress veteran Bhupesh Baghel's remark followed comments by Trinamool Congress supremo Mamata Banerjee that there was 'no UPA' left in the country.