Muzaffarpur shelter home accused says he was about to join the Congress, claim rejected
Aug 09, 2018 08:50 AM IST
Brajesh Thakur, who ran a shelter home in Bihar's Muzaffarpur where girls were allegedy sexually exploited, says he was about to join the Congress.
Brajesh Thakur, who ran a shelter home in Bihar's Muzaffarpur where girls were allegedy sexually exploited, on Wednesday said he was about to join the Congress but the political party rejected his claim.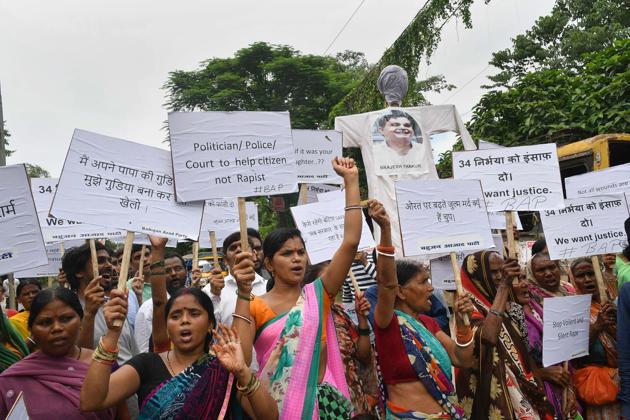 "I was thinking of joining Congress and it was almost final that I will contest elections from Muzaffarpur. I am being framed for that reason. This is also happening due to that. None of the girls has taken my name, you can check that for yourself in the case diary," Thakur said ahead of an appearance in a POCSO (Protection of Children from Sexual Offenses Act) court at Muzaffarpur, 70 kms north of Patna.
On whether he was the "hunter wale uncle" the shelter home girls referred to in their statement to the police, Thakur said, "No, they were confused with another person who used to come there."
Thakur, who was talking to TV journalists from inside a police van before being produced before the court, said he had no special relationship with Chandeshwar Verma, husband of Bihar social welfare minister Manju Verma. He, however, said that he occasionally spoke to Verma about political issues.
The Central Bureau of Investigation, which is probing the case, had reportedly found 17-odd calls to the minister's husband in Thakur's call record details.
The Congress rejected Thakur's statement. "Thakur's claims are absolutely baseless. He was not even a primary member of the Congress. In fact, he was a member of the JD(U) and had even shared the dais with chief minister Nitish Kumar at some functions," said Sanjeev Singh, Bihar Congress spokesperson and general secretary.
Bhai Birendra, chief spokesperson for the Rashtriya Janata Dal, told a TV channel that Chief Minister Kumar should explain his links with Thakur.
The girls' shelter where the alleged abuse took place belongs to Thakur. The premises were doubled up as offices for three newspapers and Thakur was a correspondent for one of them. He is also alleged to have close links Madhu Kumari, another accused who ran the shelter and is now absconding. But Thakur denied any connection with the woman and claimed he had been framed by business rivals.
"I've never had any relation with Madhu. This has been propagated by some newspapers who want my newspaper office to shut down. Their business is getting affected due to my newspaper that's why it's happening," he said.
Last Saturday, Congress president Rahul Gandhi led Opposition parties at Delhi's Jantar Mantar for a protest march against the Muzaffarpur rapes.
Prominent leaders who joined the protest included Delhi chief minister Arvind Kejriwal, RJD's Tejashwi Yadav and Misa Bharti, CPI(M)'s Sitaram Yechury, CPI's D Raja and Atul Kumar Anjan, Loktantrik Janata Dal leader Sharad Yadav, DMK's TKS Elangovan, INLD's Dushyant Chautala and TMC's Dinesh Trivedi.