Modi hits back at critics over economic slowdown, says won't jeopardise India's future
Oct 04, 2017 11:33 PM IST
Prime Minister Narendra Modi attacks "people who sleep well only after spreading pessimism", days after BJP veterans Yashwant Sinha and Arun Shourie slammed government of economy slowdown.
Prime Minister Narendra Modi on Wednesday strongly defended his government's management of the economy, pledging to reverse a downturn in economic growth.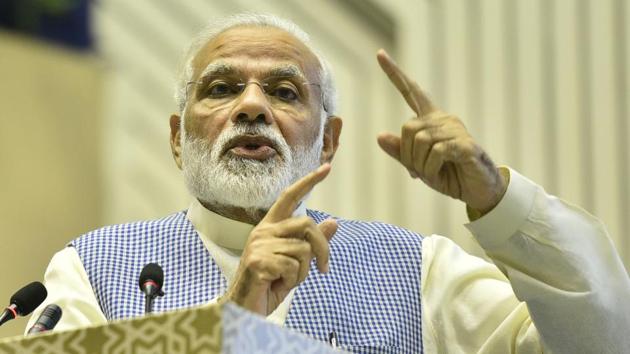 Modi's comments come at a time when the narrative about the economy has turned negative, triggered by the economy's slowest expansion in three years during the three months ended 30 June, and fanned by criticism of his government by former finance minister Yashwant Sinha and former disinvestment minister Arun Shourie, both once leading lights of Modi's own Bharatiya Janata Party (BJP).
The Prime Minister, in a talk at an event organized by the Institute of Company Secretaries of India, admitted that economic growth has slowed, but added that his government is "commited to reversing the trend".
During the course of an almost hour-long talk, Modi highlighted the country's hard-won macroeconomic stability – it is no longer part of the so-called Fragile Five, or countries that stood to lose the most in 2013 from the US Federal Reserve's decision to end its fiscal stimulus – listed his government's reformist initiatives (87 reforms across 21 sectors), and pointed to recent data that shows the emergence of green shoots in the economy.
"While the prime minister has acknowledged the slowdown in recent quarters, he pointed out that macro parameters such as current account deficit, foreign exchange reserve and inflation are in the best shape ever," said Sanjeev Sanyal, principal economic adviser at the ministry of finance.
Lashing out at his government's critics, Modi said it was fair to criticize the government, but not to spread negativity.
The lingering effect of demonetisation, the invalidation of old high value currency notes last year, and the anticipation of the move to a unified Goods and Services Tax on 1 July, resulted in the economy expanding by just 5.7% in the first quarter of this financial year. The move to GST on 1 July has also been disruptive.
Modi defended demonetisation, and justified it as being necessary to tackle the menace of black money. Almost all the money in circulation before demonetisation returned to the banking system, belying initial expectations that a significant proportion of black money would not, but finance minister Arun Jaitley said in late August that the objective of the exercise was not "confiscation" of black money. "The fact that money gets deposited in banks doesn't make it legitimate money," he added, explaining that the tax department was using data analytics to identify people whose deposits did not match their known sources of income.
Terming demonetisation and GST structural reforms, Modi said that " if any sector needs temporary assistance (on account of these), the government will give it, whether it is the small and medium enterprise (SME) segment, exports or the informal economy."
"One must remember that difficult reforms have been introduced for long-term growth," Sanyal added.
Not only did the Prime Minister aggressively join the ongoing economic debate in the country, his assurance that the tax authorities would not hound companies joining the formal economy--particularly under the Goods and Services Tax regime--will address concerns of a section of industry.
"People coming to mainstream (from the informal economy) fear that their old records may be reopened. We will not let that happen because earlier their old way of business was necessitated by prevailing circumstances. Nothing is more sinful than blocking those who want to come to the mainstream. Let bygones be bygones," Modi said.
Modi's remarks come in the backdrop of concerns flagged by sections of exporters and small and medium enterprises, struggling to cope with the transition to GST.
The Congress, a big critic of the NDA, was unimpressed. "If histrionics and dramatics could improve India's economy and create Jobs , then Acche Din would have arrived today," tweeted Randeep Surjewala, a senior Congress politician.