Parliament logjam: NDA MPs blame Congress, will give up 23 days' salary
Updated on Apr 04, 2018 11:59 PM IST
Union parliamentary affairs minister Ananth Kumar said the Congress's undemocratic politics was to blame for the disruptions in the Rajya Sabha and the Lok Sabha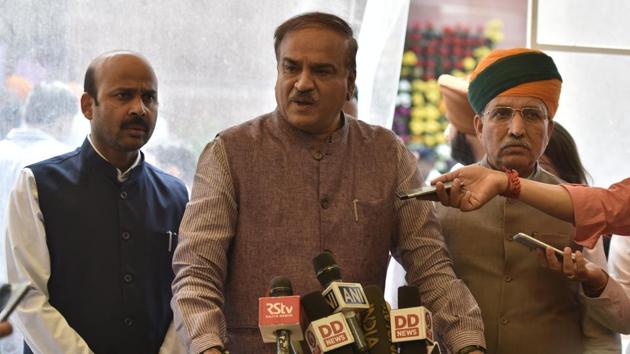 Hindustan Times, New Delhi |
HT Correspondent
Members of Parliament belonging to the National Democratic Alliance (NDA) will give up their salaries for the 23 days in which proceedings in the Lok Sabha and Rajya Sabha were paralysed by protests in the post-recess part of the budget session.
It would be the first time that MPs from an entire ruling party or coalition will forego their pay for such a long period.
The second half of the budget session has been a near washout with MPs from various parties staged disruptive demonstrations in both houses. Union parliamentary affairs minister Ananth Kumar, while announcing the salary decision at a media briefing, blamed the Congress party for the disruptions.
"The Congress is engaging in anti-democratic politics by stopping important bills from being passed, which is leading to criminal wastage of taxpayers' money," he said.
He added: "Since no work is being done, we have decided not to take money".
Parliament has not carried out any substantial work over the last 23 days of its session. The Finance Bill was passed without any discussion.
The disruptions include demonstrations over a bank fraud, protests by All India Anna Dravida Munnetra Kazhagam members over the Cauvery water-sharing issue, and demands by Telugu Desam Party and YSR Congress for special category status for Andhra Pradesh that led to no-confidence motions against the Narendra Modi government.
Members of parliament earn ?1.4 lakh every month including allowances and get an additional ?2,000 for each day the House is in session. The amount that each MP will forego comes to ?1.53 lakh.
The NDA has a little less fewer than 400 MPs in both houses.
Responding to Kumar's accusation, Congress spokesperson Randeep Singh Surjewala said: "A party that disrupted Parliament for over three-and-a-half years is indulging in symbolism of doublespeak and denigrating Parliament. The present is a rare instance in the history of Indian parliamentary democracy where the ruling party did not allow Parliament to function, subjugated parliamentary process, and insulted the institution sacrosanct to democracy."
Surjewala added that having 'stifled' the institution, the BJP's shallow symbolism and rhetoric will not absolve the Modi government.
The Congress has accused the government of running away from a debate on the issues they have raised and the no-confidence motion.
Afzal Amanullah, a former parliamentary affairs secretary, said the NDA decision "defies logic".
"The decision that all the MPs of a ruling party will not take a salary for the days Parliament didn't function is unprecedented. But why penalise MPs who didn't create disturbance? Some MPs may be actually dependent on their salaries," he said.
Personalise your news feed. Follow trending topics