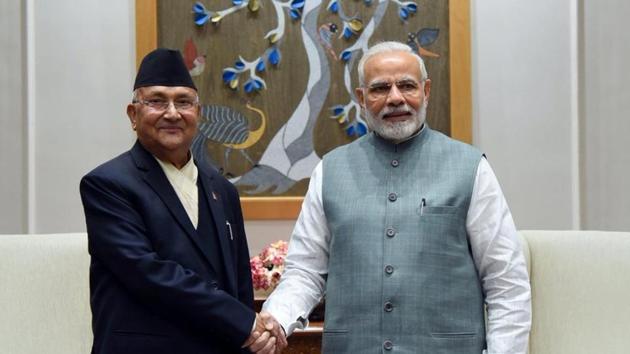 Nepal PM Oli meets Modi ahead of delegation-level talks on Saturday
Nepal's Prime Minister KP Oli said his country wants to be close with 'every neighbour' and 'every friend'. Oli is in India for three days and the delegation-level talks aim at strengthening bilateral ties.
UPDATED ON APR 06, 2018 11:24 PM IST
Nepal's Prime Minister KP Sharma Oli met his Indian counterpart Narendra Modi in New Delhi ahead of delegation-level talks that would be aimed at strengthening bilateral ties.
Oli, accompanied by his wife Radhika Shakya Oli, arrived in New Delhi Friday morning for a three-day India visit and was received at the airport by home minister Rajnath Singh. This is his first foreign trip after assuming office.
The Nepalese premier met Prime Minister Narendra Modi in the evening ahead of delegation-level talks on Saturday.
"Delighted to meet the Prime Minister of Nepal, Mr KP Sharma Oli," Modi tweeted after the meeting.
Modi also posted photographs on Twitter of his meeting with Oli at the Prime Minister's official residence here.
Oli, while speaking to reporters on the sidelines of a dinner hosted by the Nepalese Embassy, said Nepal wants to be close with "every neighbour" and "every friend".
Responding to questions on his discussions with Prime Minister Modi during the meeting, Oli said, "It was excellent".
Earlier in the evening, Oli also addressed members of the Nepalese community at an event at Nepal's Embassy in New Delhi.
Former Prime Minister Manmohan Singh and Congress president Rahul Gandhi also met Oli and discussed issues of mutual interest.
Oli also attended a business luncheon event on the first day of his visit.
The visiting leader will be accorded a ceremonial reception at the Rashtrapati Bhavan Saturday.
Oli's visit is in line with the tradition of a Nepalese premier visiting India on his first overseas trip.
The visit also assumes significance as it comes after Oli had publicly criticised New Delhi for interfering in Nepal's internal matters and accused it of toppling his government last year.
In February, Oli took charge as Nepal's prime minister for the second time.
Ahead of his visit, Oli had said his trip would focus mainly on implementing the past agreements signed between Nepal and India rather than singing a new one.
"We want to maintain trustful (ties) with India and clear any suspicion in the bilateral relations," Oli had said.
Swaraj had visited Nepal before Oli took office to congratulate him for the historic victory of the Left Alliance in the Parliamentary and Provincial elections.
She was the first senior Indian minister to visit Nepal after the conclusion of elections to local bodies, provincial assemblies and federal Parliament.
While congratulating Oli over phone upon his appointment to the top executive post in February, Prime Minister Modi had extended an invitation to him for a visit to India.
Ahead of the visit, the Ministry of External Affairs (MEA) had said it would provide an opportunity to the two sides to review the wide-ranging cooperative partnership, and to progress it further for the benefit of the two peoples.
India and Nepal enjoy age-old, special ties of friendship and cooperation, it had said.
On the third day of his visit, the Nepalese premier will also visit the G B Pant University of Agriculture and Technology in Pantnagar, Uttarakhand.
Close