Niti Aayog fails to submit papers in House, panel refuses to review its budget
Updated on Feb 17, 2017 09:05 AM IST
A parliamentary panel has refused to review Niti Aayog's budget for 2017-18 as the body failed to submit its detailed demand for grants and annual report to Parliament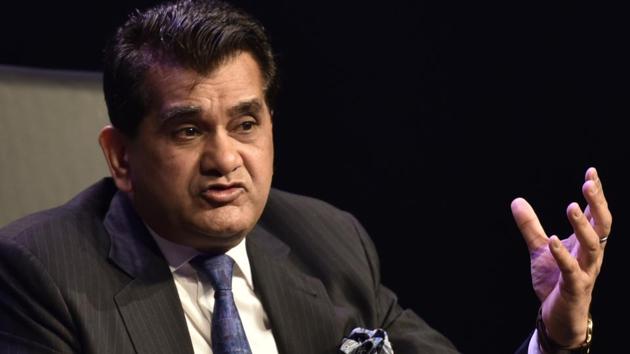 Hindustan Times, New Delhi |
, New Delhi
Saubhadra Chatterji and Suchetana Ray
Prime Minister Narendra Modi's pet NITI Aayog was caught on the wrong foot when a parliamentary panel refused to review its budget for 2017-18.
The standing committee on finance pointed out that NITI Aayog, headed by Amitabh Kant, has not submitted its detailed demand for grants and annual report to Parliament. It also underlined that the ministry of planning didn't submit their detailed demand for grants.
The National Institutional for Transforming India (Niti) Aayog replaced the Jawaharlal Nehru-era Planning Commission in 2015.
"When we have no idea on how the NITI Aayog and ministry of planning spent their money last year, how can we discuss their next year's budget?" an Opposition leader said.
Sources said BJP parliament Nishikant Dubey also raised objections even as Kant said that these documents can be submitted later.
The panel wants to see how much the Niti Aayog has spent on remuneration of its staff, on organising and attending seminars and most importantly, paying different think tanks, the sources said.
The Opposition raised the queries after allegations that the body has fallen back on pro-BJP and pro-RSS think tanks for feedbacks.
In the meeting, Kant even proposed that he can send the documents to the panel for review. But BJD's Bhartruhari Mahtab and panel chairman, Congress MP Veerappa Moilly, rejected the proposal and maintained that the ministry's balance sheet should be placed before the House.
"The documents which come to the panel are sent by the Lok Sabha Speaker. Any deviation may demean the Parliamentary norms and process," Mahtab told Kant.
Kant was asked by members to submit these documents to Parliament during the second half of the budget session.
Government sources said the detailed demand for grants is a document that is presented by respective ministries on the expenditure made by them.
"A demand for grants and a document on outcome budget was presented along with the Union budget earlier this month," said an official in the finance ministry who did not wish to be named.
He added that it is the duty of the ministry of planning to present the detailed demand for grants and the annual report. Keeping parliamentary etiquette in mind, these documents should be presented at the earliest after the Union budget is presented.