Nitish Kumar parts ways with Lalu Prasad, breaks Mahagathbandhan: What now for Bihar politics?
Hindustan Times, Patna/New Delhi |
HT Correspondent
Jul 26, 2017 09:28 PM IST
Nitish Kumar's surprise resignation as Bihar chief minister significantly changed the political balance in the state as it lead to a split in the ruling alliance.
Nitish Kumar on Wednesday decided to resign as Bihar's chief minister after an impasse with his alliance partner Lalu Prasad over the fate of his son Tejashwi — the state's deputy CM who has been accused of corruption. (LIVE UPDATES)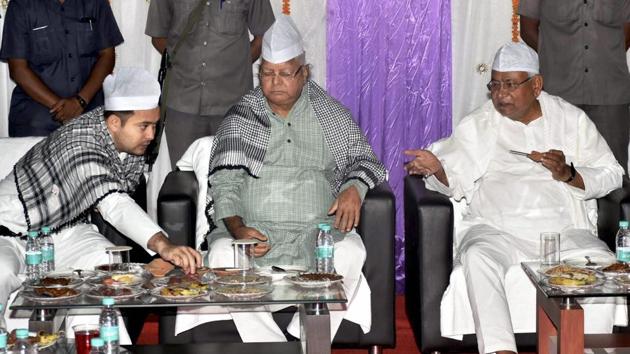 Kumar will continue as caretaker chief minister, but he, Prasad, the BJP and the governor now need to take a decision on a future government. That can lead to any of these scenarios:
SCENARIO 1
Kumar could form a new government with NDA support. He needs a total of 121 legislators — he has 71 — to back a new claim in the 243-member house. Backing from the NDA — where BJP has 57 MLAs and the support of 4 Independent members – will take Kumar's strength to 132 members. The BJP has indicated it is not in favour of a mid-term poll
Likelihood: Very high
SCENARIO 2
Nitish Kumar and the BJP decide not to form next government and opt for mid-term elections considering the corruption charges against Lalu Prasad and his sons.
Likelihood: Moderate
SCENARIO 3
Kumar takes up RJD chief Lalu Prasad's challenge to call a combined meeting of Grand Alliance legislators to elect a new leader. Kumar can't be a part of the vote, and neither will Prasad's sons Tejashwi and Tej Pratap. RJD has 80 legislators and Congress's 27 could lend it support, swinging the scales in Prasad's favour.
Likelihood: Low
SCENARIO 4
Prasad and the Congress manage to engineer defection in JD(U), which would require at least 15 members from Kumar's party to resign, bringing down the strength of the house where the Grand Alliance would become the majority.
Likelihood: Very low