No one can stop Ram temple construction in Ayodhya, says Sakshi Maharaj
May 30, 2017 10:38 PM IST
The BJP leader says he is fortunate to appear in front of a special CBI court in the Babri Masjid demolition case.
Bharatiya Janata Party (BJP) leader Sakshi Maharaj on Tuesday asserted that no force on earth can stop the construction of the biggest Ram temple in Ayodhya and said he was fortunate to appear in front of a special CBI court in the Babri Masjid demolition case.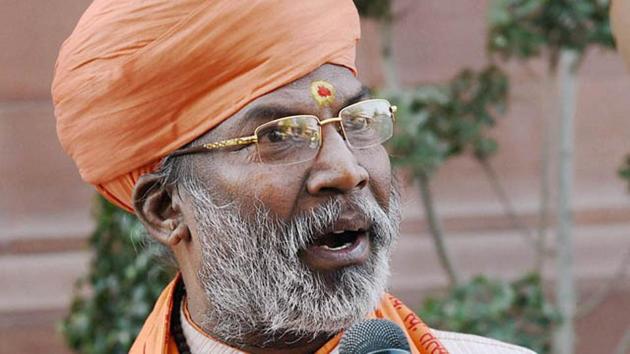 "I didn't do anything wrong. In fact, I was fortunate to be part of that as it was a pious thing to do," he said.
The leader also said Ayodhya should not be remembered for the mosque but as the birthplace of Lord Ram.
"Don't be mad, there was no Babri mosque. Babar was a foreigner who had nothing to do with India. You people (media) should not repeatedly call it 'Babri'. It was, it is and it will remain Ram Janmbhoomi (birthplace)," Sakshi Maharaj said.
Asked if he had any role in demolishing the mosque, the BJP MP from Uttar Pradesh's Unnao also said: "There was no structure, but there was a small Ram temple, so we tried to make a new temple."
Beside Sakshi Maharaj, senior BJP leaders LK Advani, Murli Manohar Joshi and Union minister Uma Bharti appeared before the court where charges were framed against them for their alleged role in the demolition of the mosque in 1992.
Charges would also be framed against Sadhvi Ritambhara, Bharatiya Janata Party MP Vinay Katiyar and Vishwa Hindu Parishad leader Vishnu Hari Dalmia.
Last week, counsel of the accused had moved a plea in the court to exempt Advani, Joshi and Bharti from personal appearance, but it was turned down.
Charges against six others accused in the matter - Mahant Ram Vilas Vedanti, Mahant Nritya Gopal Das, Baikunth Lal Sharma, Dharm Das, Champat Rai Bansal and Shiv Sena's Satish Pradhan, who were granted bail - will also be framed on Tuesday.
All the accused are facing charges of conspiring to bring down the mosque.
The CBI had opposed dropping the charges against these leaders in the Supreme Court after which the apex court directed the special CBI court in Lucknow to hold daily hearings on the 25-year-old matter and wrap it up within two years.