Not enough evidence to link Covid with increase in TB, says health ministry
Jul 17, 2021 05:56 PM IST
Both tuberculosis and Covid-19 impact the lungs but increase in TB cases, if any, can not yet be attributed to Covid-19, the ministry said.
Refuting reports that there has been a sudden uptick in the number of tuberculosis cases among patients recovering from Covid-19 infection, the Union health ministry on Sunday said there is not enough scientific evidence to link the two. Both the diseases are contagious and primarily attack the lungs, but it will not be right to ink the two as yet, the government said. A few reports claimed that Madhya Pradesh doctors have found the number of TB patients suddenly increasing and what links all of them is Covid.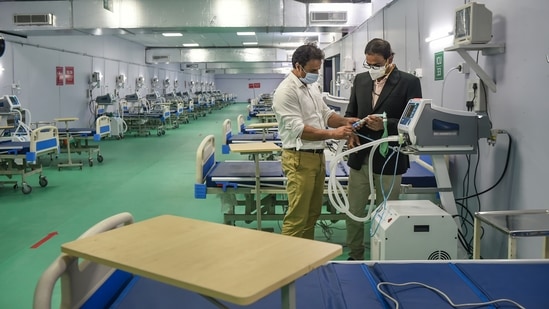 Then why are TB cases increasing? Or, are TB cases in India actually on the rise? The government has said that TB case notifications in India decreased by about 25 per cent owing to "the impact of Covid-19-related restrictions" in 2020. "But special efforts are being made to mitigate this impact through intensified case finding in OPD settings as well as through active case finding campaigns in the community by all states," the ministry said.
Next 100 days crucial, says Union health ministry amid Covid 3rd wave fears
Like other post-covid infections, which are not new but are preying on the weakened immunity, TB can infect a person recovering from Covid as his or her immunity is weak at that time. "TB bacilli can be present in humans in a dormant state and has the potential to start multiplying when the individual's immunity is compromised for any reason. The same is applicable in post-Covid scenario, when an individual may develop decreased immunity due to the virus itself or due to the treatment, especially immune-suppressants like steroids," the ministry said.
The ministry also said that in 2020 only, it had recommended TB screening among Covid-19 patients as early as August 2020 and multiple such advisories have been issued.
"The dual morbidity of TB and Covid-19 can be further highlighted through the facts that both the diseases are known to be infectious and primarily attack the lungs, presenting similar symptoms of cough, fever and difficulty in breathing, although TB has a longer incubation period and a slower onset of disease," the ministry said.
Covid and TB
Both the diseases primarily attack the lungs and have similar symptoms like cough, fever, breathing difficulty etc. However, TB has a longer incubation period than Covid.
Earlier, the health ministry had said all Covid-19 cases should be screened for TB symptoms using the 4-symptom complex (Cough for > 2 weeks, persistent fever for > 2 weeks, significant weight loss, night sweats), history of contact with TB case, history of TB and those symptomatic should be offered Chest X-ray and upfront Nuclear Acid Amplification Test (NAAT) – CBNAAT/TrueNat) for diagnosis of Tuberculosis.
Topics