Note-ban decision in national interest, to benefit poor, farmer: PM Modi
Prime Minister Narendra Modi delivered his 26th Mann ki Baat address to the nation Nov 27.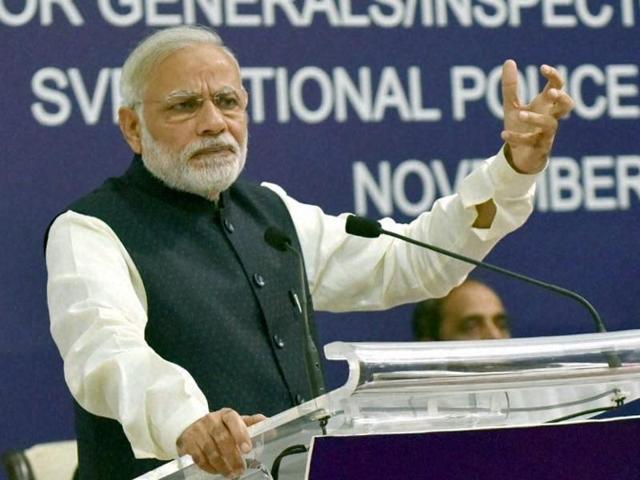 Updated on Nov 27, 2016 07:19 PM IST
Prime Minister Narendra Modi on Sunday said demonetisation was "an essential step taken in national interest" for the benefit of the poor, farmers, labourers and the deprived sections of India.
Modi's defence of the decision to scrap Rs 500 and Rs 1,000 banknotes came in the 26th edition of his radio show Mann ki Baat and at a time when the Opposition has launched an all-out war against the government over demonetisation.
The two sides are locked in a fierce battle over the decision that sucked out 86% of the money in circulation, leaving people scrambling for notes in a country where most transactions are driven by cash.
The government says the move is part of its war against black money but the Opposition accuses it of unleashing financial anarchy. The differences have cast a shadow on the ongoing winter session of Parliament that has seen regular disruptions and got little business done.
The Opposition has called an all-India protest day on Monday.
"I have taken this big decision for the poor, the farmer, the labourer and the deprived sections of society," Modi said.
Warning black money hoarders against using poor people's Jan Dhan bank accounts for depositing money, he said the law would deal with such people. The benami transactions law was a stringent law, he warned.
"Some people have chosen to use the poor to convert their black money into white. Whether you improve or not, follow the laws or not, the law will deal with that. But, I want to tell you do not do anything that puts my poor people in trouble," Modi said.
He made a pitch for a cashless society, saying it would help the poor. "We can start with a less cash society," Modi said.
The Opposition has often accused the government of being anti-poor and anti-farmer especially after its several attempts to push through a land acquisition law.
Labourers were not paid their wages in full, Modi said. They signed on a different amount but receive a lesser sum. "When your wages are deposited in your bank accounts, this exploitation will end," he said. Thanking farmers for sowing more seeds than previous years, Modi added: "Farmers have found the way out despite the difficulties."
Defending the currency switch, Modi said tax collections in 47 cities had gone up four times against last year's around Rs 3,500 crore. "This money will now be used to build gutters in a poor locality or supply drinking water to the poor," he said.
Modi also pushed for electronic transactions to end the menace of black money. Exhorting the youth to do their bit, he said one person should help at least 10 families in using mobile phones for digital transactions. "I know you support this decision but I need your physical help and your time for this," he said.
Close Story