Notebandi to bazarbandi: India's cattle farmers stare at ruin
Jul 11, 2017 12:43 PM IST
First came demonetisation. Then, as banknotes slowly returned to circulation, a crackdown on illegal slaughterhouses in the state wrecked the local market for cattle.
In Ilyas Khan's eyes shine the pride of a grand past that give way to the clouds of an uncertain future. Two decades ago, the Thursday cattle market he runs in western Uttar Pradesh's Banat saw traders troop in from faraway Delhi and Bihar. Today, the facility is on its last legs, he says, and struggles to even attract people from nearby Shamli.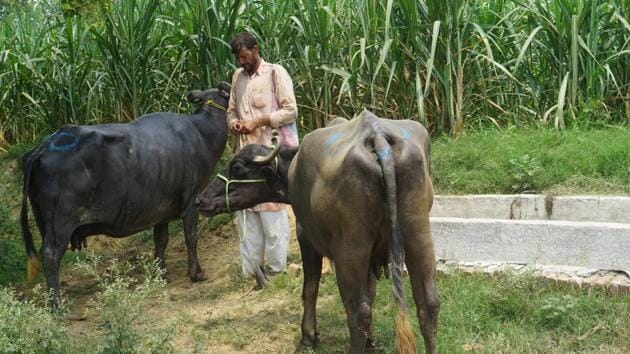 First, demonetisation wiped out cash from the farmers and traders hands. Then, as banknotes slowly returned to circulation, a crackdown on illegal slaughterhouses in the state wrecked the local market for cattle. Now, a central government notification on cattle markets – bazarbandi in local parlance – threatens to lurch the Banat facility towards closure.
"The number of cattle we sell is down to 10%. Earlier the place would buzz from 7am to 5pm. Now all trade is over in two hours," says Ilyas, sitting inside a makeshift tent on one corner of a massive field. "Tabaahi ho gayi hai."
The dead market stirs alive every now and then by the roar and gusts of dust kicked up by an occasional truck. A handful of buffaloes amble about in the middle – a sign of slowing local demand that was the mainstay of Banat. Opposite the market, the lone legal slaughterhouse in the district is shuttered.
"Only factories are running. Local butchers are finished. People are scared of police, Yogi (chief minister Adityanath) and his yuva vahini," says Nyasuddin, one of the oldest traders in the market. He says trade has fallen from Rs 1.5 lakh to just Rs 40,000 a day, and the number of labourers employed from 80 to 10.
The sale of cows has stopped and buffaloes and bulls sell for between Rs 15,000 and Rs 75,000, depending on strength and age. But overhead costs are many – traders privately say police are cashing in on the atmosphere of fear amnd ask for bribes to let trucks pass. A case of cow slaughter in nearby Garhi Pukhta has spooked locals further. "Imagine if local vegetables are banned and are sold only in the city," Ilyas complains.
District animal husbandry department chief Bhupendra Singh blames the slowing trade on a refusal to adhere to rules – each market has two doctors who ensure trades can only carry a certain number of animals in a truck. But privately, district officials concur that the cattle market business is finished.
Such tales of distress abound on the other side of the chain. In Uttarakhand's Rajaji National Park, for example, officials are battling a scourge of farmers leaving old cattle to be eaten by leopards because locals are scared the animals will die on their watch. Most states hand out harsh punishments for cattle slaughter but haven't ramped up the capacity of shelters to take in old and infirm animals.
This is hurting the dairy industry. "I am concerned about aging cows. Earlier I handed them to sheds but they are packed," says Dharmendra Chauhan, who runs a dairy in Dehradun.
In the capital Delhi, shelters have refused to take in any new animals for months, and lack of quality care has contributed to the deaths of 150 cows in one of India's richest cowsheds in Kanpur.
Experts say a climate of fear has jammed earlier systems of disposal of old and unproductive cattle that take upwards of Rs 10,000 a month to maintain. A crippling farm crisis sweeping India's food bowl states and a perennial shortage of fodder – India has just 40% of the fodder required for 500 million farm animals – has worsened the crisis.
"Livestock used to be the ATM of farmers who could sell them to fund education or medical expenses. But now they're forced to maintain infirm cattle. If he doesn't have anything to eat, how will he feed the cow," asks Fauzan Alavi of the All India Meat & Livestock Exporters Association.
He thinks the government's aim of doubling farm incomes by 2022 is a pipe dream under the current slaughter rules. "20 years down, farmers will still be asking for loan waivers…this emotion over economics is hurting farmers."
Scientists agree, pointing to the fact that yields of local breeds of cattle are far lower than sustainable levels – just five of the 35 prevalent breeds of cattle are milch – and the solution is long-term policy change to drive fodder generation and cross-breeding, not forcing farmers to keep unproductive animals.
"Farmer should have the choice to get rid of animals. The government should procure all animals and feed them…if they can't, how can they expect poor farmers to?" asks Dr Narayan Hegde of the BAIF Research Foundation in Pune.
He gives the example of Maharashtra, where the government banned slaughter in 2015 and a drought scorched the state soon after. "Farmers couldn't sell their animals and had to keep with them, watch them dying of fodder and water shortage. It was a helpless and pathetic situation."
Others warn that the rules are ill thought out and would cause the cattle population to explode over the next decade. "Animal husbandry may even become unpopular and limited to cattle lovers," says Hegde.
(with inputs from Anupam Trivedi in Dehradun)
"Exciting news! Hindustan Times is now on WhatsApp Channels
Subscribe today by clicking the link and stay updated with the latest news!"
Click here!
Get
Latest India News
along with
Latest News
and
Top Headlines
from India and around the world