On her way out, Nikki Haley takes a last jab at Donald Trump
On a serious note, Nikki Haley delivered a sharp rebuke of Donald Trump's divisive politics, saying opponents are not evil.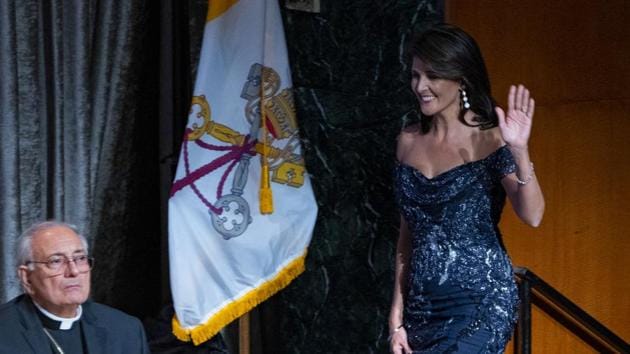 Updated on Oct 20, 2018 01:32 AM IST
Washington, Hindustan Times |
Yashwant Raj
With the weight of UN ambassadorship nearly off her shoulders, Nikki Haley seems ready to speak her mind and have some laughs.
She poked fun at herself, her Indian roots and her boss, President Donald Trump, at a New York annual dinner on Thursday, at which chief guests are expected to skewer themselves and others. So she did, taking aim at Trump's last UN speech and his controversial immigration policy.
On a serious note, Haley delivered a sharp rebuke of Trump's divisive politics, saying opponents are not evil.
Setting up her speech, she said many people called to advise her on what she should say. One common suggestion was: "Do not, under any circumstances, make any jokes about the president."
Haley, who recently announced she will leave her post at the end of the year, proceeded to do just that.
"The president called me this morning and gave some really good advice. If I get stuck for laughs just brag about his accomplishments," Haley said, to laughs.
"It really killed at the UN, I've got to tell you," she continued, and added, with a chuckle, "There has been some debate whether the UN laughed with the president or at the president."
The UN General Assembly had burst into laughter — some said mockingly — when Trump began his speech by claiming his administration was the most successful in US history. Trump, who has shown he cannot take a joke at his expense, insisted later world leaders had laughed with him.
Haley continued, with Trump still in her cross-hairs. In an obvious jab at Trump's crackdown on legal and illegal immigration and forced separation of families and deportations, she brought up her Indian roots. Her parents, she said, are immigrants from India — "legal immigrants", she stressed.
But she keeps them at an "undisclosed location", adding "just in case". She let the audience fill in the blanks by drawing from images they have seen of families and children from the southern border.
Haley used her Indian heritage for a few more laughs, but mostly taking aim at others, including Trump: "When the president found out I was Indian, he asked me if I belonged to same tribe as Elizabeth Warren."
Warren, a Democratic senator expected to run for the White House in 2020, has claimed Native American ancestry and recently cited a DNA test report in support though it was widely scorned for the remote possibility it indicated — at least one Native American ancestor six to 10 generations ago.
Haley went after Warren too. She said organisers of the event — Al Smith foundation dinner — had wanted to invite an Indian this year, and were forced to go with Haley because Warren failed the DNA test.
And then a serious note of difference. "In our toxic political environment, I've heard some people in both parties describe their opponents as enemies or evil," Haley said. But it's been Trump who has used that word and defended it.
"In America, our political opponents are not evil. In South Sudan, where rape is routinely used as a weapon of war, that is evil. In Syria, where the dictator uses chemical weapons to murder innocent children, that is evil. In North Korea, where American student Otto Warmbier was tortured to death, that was evil."
Close Story