On the brink of extinction
Dholes face local extinctions in 37,000 sq km surveyed across the Western Ghats, which is their only habitat in India.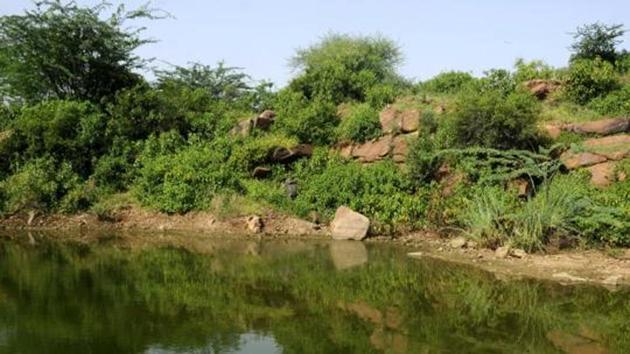 Published on Apr 22, 2019 12:17 AM IST
Hindustan Times, New Delhi |
Jayashree Nandi
The Asiatic wild dog or dhole, an adept hunter documented to have overpowered leopards and tigers when hunting in packs, may disappear from its habitat in India, Bengaluru-based Centre for Wildlife Studies (CWS) warned in its study published in February.
Dholes face local extinctions in 37,000 sq km surveyed across the Western Ghats, which is their only habitat in India.
Dhole occupancy or dhole signs, which were detected in 35% of the sites surveyed in 2007, had reduced to 30% of the sites by 2015, found the study published in Nature journal's Scientific Reports.
The study identified 49 sites most sensitive to local extinction, which could significantly reduce the wild dog's numbers.
On the 49th annual Earth Day – a global event to highlight environmental issues — we take a look at the how loss of forest habitat is causing one of the biggest environmental challenges for the country's wildlife and the changes needed in government measures to save endangered species likes dholes.
"Dhole is a wild canid apex carnivore that primarily inhabits forested areas in south and southeast Asia. Globally, dholes have disappeared from 82% of their former range… we found that the Western Ghats landscape, in spite of its relatively high-quality reserve network, does not seem adequate for conserving what may be the largest dhole meta-population in the world," a CWS statement said.
In the absence of government-sourced updated estimates of the population numbers of many species, the only estimates are those by wildlife experts working in the field.
World Wide Fund for Nature-India's species and landscape director Dipankar Ghose said the government's conservation measures for endangered species are mainly research-oriented.
"It has to be supported with good field conservation measures. Funding for endangered species needs to improve vastly," he said.
Under its Integrated Development of Wildlife Habitat scheme, the Union environment ministry releases just one crore each annually to the state governments for the conservation of protected areas and other wildlife habitats. In comparison, ₹350 crore was allocated for the conservation of tigers in this year's Union budget.
Ghose underlined there can be no conservation without community participation. "They [communities] need to be made parties in benefit sharing and management of forests. For example, both red panda and snow leopards are found in Arunachal Pradesh, where communities own forests. Outsiders may not be able to do much without their involvement," said Ghose.
Close Story