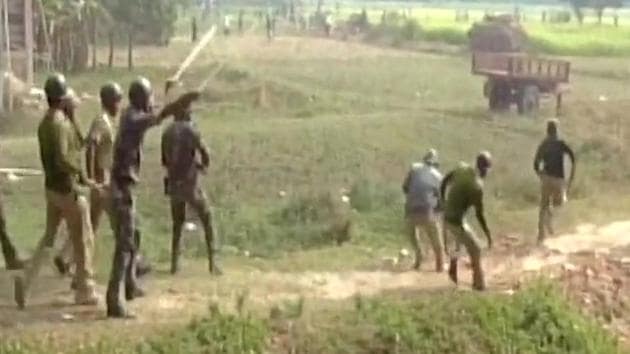 Bhangar: 2 dead, many wounded as villagers protest West Bengal power project
One person was killed and several others were injured on Tuesday after thousands of villagers protesting against a power grid project clashed with police in South 24 Parganas district's Bhangar, bringing back memories of the agitations in Singur and Nandigram.
UPDATED ON JAN 18, 2017 12:32 PM IST
Two people were killed and many wounded in clashes that broke out during protests against a power grid project in West Bengal's South 24 Parganas district on Tuesday, bringing back memories of the tumultuous days of anti-land acquisition agitations in Singur and Nandigram.
Both victims in Bhangar died of bullet injuries, but villagers said police did not fire at them and alleged the involvement of supporters of the ruling Trinamool Congress, which blamed people "against development" for the violence.
In the previous Left regime, there was an attempt to acquire land in Bhangar, but the state government retreated in the face of fierce protests in Singur and Nandigram led by chief minister Mamata Banerjee, who was then the opposition leader.
The situation had been tense in Bhangar from Monday evening, when police picked up two activists --- before releasing them an hour later under the instructions of top officials at the state secretariat.
On Tuesday morning, irate villagers vandalised police vehicles and set at least three buses on fire. They uprooted trees, blocked roads with the trunks and hurled brickbats at the police for hours. Mofijul Khan and Alam Mollah died in the firing that ensued.
"Supporters of Arabul Islam (a local TMC leader) shot my brother," alleged Khan's brother.
CM Banerjee rushed leaders such as Rajya Sabha MP Mukul Roy and minister Abdur Rezzak Mollah to talk to the agitators, who demanded the cancellation of the project.
The project, undertaken by the Powergrid Corporation of India, is nearing completion on a 16-acre plot that was acquired a couple of years ago. Villagers are also objecting to high-tension lines passing over their land.
"Work on the project stands suspended," power minister Sovandeb Chatterjee told HT.
Sharmistha Chowdhury, one of the leaders of the movement, said the residents gathered at the site in the morning after a huge contingent of police entered the villages of Khamar Ait, Nutanhaat and Machhibhanga.
"As the police tried to disperse the gathering by firing tear gas shells and rubber bullets, the situation went out of control," said Chowdhury.
The villagers' movement is spearheaded by Jomi, Jibika, Poribesh O Bastutantra Raksha Committee (Committee to protect land, livelihood, environment and ecosystem). The committee is guided by CPI-ML (Red Star), a little-known Naxalite outfit.
Turning the tables on Banerjee, the CPI-M came out in support of the farmers at Bhangar and threatened to hit the streets if police forces were not withdrawn.
"Police acted on the orders from the chief minister who herself had organised movements against land acquisition during the Left regime. But now she is busy organising global business summits," said CPI-M state secretariat member Md Salim.
He criticised state minister and local MLA Moollah, who was the land reforms minister during the Left regime, and said: "Bhangar's uncrowned king was sitting silently while tension was building up."
Echoing what the Left leaders said during their rule, Trinamool Congress vice-president and Rajya Sabha MP Mukul Roy said: "Those creating disturbances are against development."
"We are against land being taken away forcibly for any project," said state Congress president Adhir Chowdhury.
Close