Over 650 rescued from Lahaul-Spiti, hundreds still stranded in hills
Hindustan Times, Dharamshala/Mandi |
, Dharamshala/mandi
Naresh K Thakur & Roop Upadhyay
Sep 26, 2018 11:08 PM IST
While 24 people, including five foreigners, were airlifted by IAF helicopters, others were evacuated through the Rohtang Tunnel by the Border Roads Organisation personnel.
More than 650 people, including five foreigners, were evacuated on the second day of a mega search and rescue operation in snow-marooned district of Lahaul-Spiti in Himachal Pradesh on Wednesday.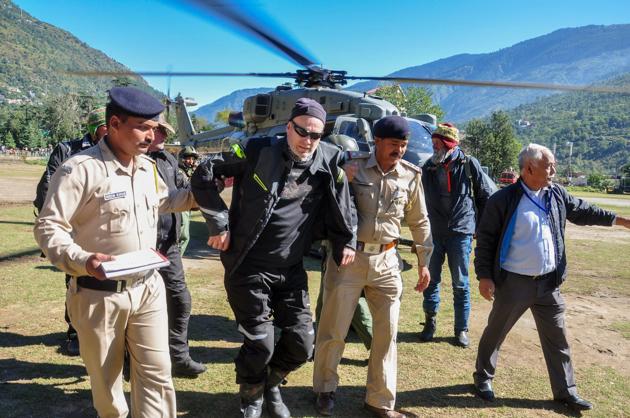 While 24 people, including five foreigners, were airlifted by Indian Air Force (IAF) helicopters from various locations, others were evacuated through the Rohtang Tunnel by the Border Roads Organisation (BRO) personnel in the rescue operation that resumed at 7 am and continued till dusk.
The foreign tourists from Denmark and Norway, and nine from Kolkata, were airlifted from 16,020-feet-high Baralachal La pass.
An Israeli couple stuck at Kurgyak village on Himachal-Jammu & Kashmir border was rescued by helicopter of a private aviation company. Two Czech nationals and 26 Nepalese were also reportedly stranded at the same village which lies in Jammu and Kashmir.
Three people, including a pregnant woman from Nepal and a BRO labourer, have died in the past two days.
Kullu deputy commissioner Yunus Khan said IAF has deployed two Advanced Light Helicopters (ALH) and one Medium Lift Helicopters (MLH) for the rescue operation while the state is also using chief minister's Pawan Hans helicopter.
"Rescued people are being brought to Manali and Bhunter and two helipads have also been built at Dhalpur ground," said Khan.
He said over 1,000 people are still stranded at various locations including Baralacha La, Surajtal, Killing Sarai, Bharatpur, Sarchu, Chhatru and Batal.
A rescue team sent to Chandertal has informed that there was no one left as all the camp owners at the lake had sent them towards Koksar the day it started snowing.
"A total of 24 people have been rescued by the helicopters," Khan said, adding that the road clearing operation in Lahaul-Spiti district was on in full swing.
Telephone connectivity has been restored in the valley, but there is no electricity.
Early snowfall in the higher reaches, cloud burst and heavy rains devastated large parts of the state between September 22 and 24.
Kullu was the worst affected due to floods, while and Lahaul-Spiti was buried under 4–5-foot snow, leaving hundreds of tourists stranded.
Six missing trekkers found in Sangla
Six trekkers who were reported missing on the Dodrakwar to Sangla trek route have been found by a rescue team of Indo-Tibet Border Police (ITBP) at Sangla pass.
The trekkers hailing from Jubbal of Shimla and Delhi were missing since September 21. They were on a trek from Dodrakwar of Shimla to Sangla in Kinnaur.
The rescued trekkers have been identified as guide Aushutosh, Puneet and Nikhil from Jubbal of Shimla and Ashutosh Deepraj and Honey from Delhi.
Students rescued in Chamba
800 students and their teachers, who were stranded in the Holi area of Chamba district, were evacuated on Wednesday, when the Chamba-Holi road was opened after two days.