Serious allegations, says judge; sends Chidambaram to CBI custody for 4 days
Chidambaram was brought to the Rouse Avenue court complex around 3 pm after a medical check-up. His son Karti and wife Nalini had arrived much earlier. So did his team of lawyers including senior Congress leaders Kapil Sibal and Abhishek Singhvi.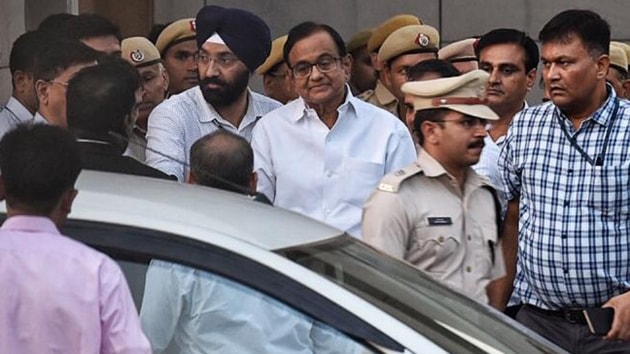 Updated on Jun 19, 2020 05:29 PM IST
Hindustan Times, New Delhi | By Richa Banka and Namita Singh
A special court on Thursday sent former Union minister P Chidambaram to Central Bureau of Investigation (CBI) custody till August 26 in a case of suspected corruption, rejecting arguments by senior lawyers and Congress colleagues who sought his bail by stressing that the personal liberty of their client was under threat.
The CBI, which arrested Chidambaram, 73, in the INX Media case after day-long drama on Wednesday, sought his five-day custodial interrogation, maintaining that the senior Congress leader did not cooperate in the probe and that there was a need to unearth a "larger conspiracy".
"Considering the facts and circumstances as brought to the notice of the court, I am of the view that police custody remand of the accused, P Chidambaram, is justified and accordingly the accused is remanded to police custody till August 26," judge Ajay Kumar Kuhar ruled.
He allowed Chidambaram's family members and lawyers to meet him for half-an-hour every day during this period.
Watch | Chidambaram sent to 4 day CBI custody after arrest in INX media case
Chidambaram's wife Nalini and son Karti Chidambaram, who is also being probed in the case, were present in the courtroom.
"It is impressed upon the investigating agency that it will ensure that the personal dignity of the accused is not violated in any manner," the judge said in his 10-page order.
"The enormity of money allegedly involved in this case and the persons who are accused necessitate an in-depth investigation," the judge added. "The investigation needs to be brought to a logical end and for that purpose, the custodial interrogation is sometime found useful and fruitful."
Senior advocate Kapil Sibal, who appeared for Chidambaram in the special CBI court, said all other accused in the case, including Karti, have already been granted bail. Senior advocate Abhishek Singhvi, who also argued for Chidambaram, said the agency could not seek his remand on the ground of "evasive replies".
In the special court, solicitor general (SG) Tushar Mehta, who appeared for CBI, said the agency was not extorting a confession from Chidambaram. Mehta said Chidambaram's custodial interrogation was necessary to unearth the "quid pro quo and larger conspiracy" in a serious case.
The CBI's arguments were based on three key points: Chidambaram did not cooperate with the investigation and gave evasive replies on many crucial questions; his replies were in contradiction to the stand taken by other co-accused and witnesses; and the probe revealed that Karti received payments from several companies, which received Foreign Investment Promotion Board (FIPB) approvals during Chidambaram's tenure as finance minister.
Mehta objected to Chidambaram's request to speak for himself and said that would set a wrong precedent. But the former minister, who remained standing through the course of the one-and-a-half-hour-long hearing though he was offered a chair by the judge, was given a chance to speak.
"This allegation of the amount of $5 million and $450,000 was never put to me. They only asked me if I had a foreign bank account. I said no. They asked me whether my son had a foreign bank account to which I said yes. The details of the bank account was later provided to them," Chidambaram said during the brief submission. He also countered the charge that he was being evasive, pointing the court to the transcript of a June 6, 2018, questioning that, he said, would indicate that he answered all the questions put to him.
The INX Media case relates to alleged irregularities in FIPB clearance given to the media group for foreign investment to the tune of ~305 crore in 2007, when Chidambaram was finance minister. CBI registered a first information report on May 15, 2017, alleging irregularities in the manner the clearance had been awarded. The Enforcement Directorate (ED) filed a money laundering case a year later.
The agency alleges that the former directors of INX Media, Indrani Mukerjea and Peter Mukerjea, made a payment of $5 million and $450,000 to Chidambaram in 2007-08 and 2008-09, allegedly for giving the FIPB approval.
Sibal and Singhvi added that their client was not even named an accused in the first information report (FIR) registered in the case in 2017, almost 10 years after the alleged scam took place in 2007-2008.
"The accused had approved and endorsed the decision of six persons in his capacity as the finance minister. Now the six persons are the deciders...The FIPB approval was given by six secretary-level officers but no action has been taken against them. They are not arrested because they are not in public eyes or are blue-eyed boys," said Singhvi. Of the six secretaries, at least two were elevated to senior positions, he added.
Sibal argued that the first person arrested in the case, Bhaskaraman, a chartered accountant for Karti, is out on anticipatory bail. INX Media co-founders Peter Mukerjea and his wife Indrani Mukerjea, charged with entering into a criminal conspiracy with Karti to get FIPB and evade punitive measures, are out on "default bail" as they are in jail in connection with another matter, Sibal said.
Peter Mukerjea and Indrani Mukerjea are behind bars in connection with the murder of Sheena Bora, Indrani's daughter from another marriage.
Singhvi said the CBI case was based on the statement of Indrani Mukerjea, who has turned approver in the case. He also argued that there was no allegation of tampering of evidence by the CBI.
Sibal said the CBI could have written a letter to Chidambaram for producing the documents alleged to be in his possession and the agency could not say he was evasive during the investigation.
Outside the courtroom, Chidambaram's arrest sent the political mercury soaring, triggering a war of words between the government and the principal opposition party.
Addressing a press conference in New Delhi on Thursday, Congress's chief spokesperson Randeep Surjewala said: "Over the last two days India witnessed the broad daylight murder of democracy and the rule of law by a government hell bent upon using the CBI and ED as personal revenge-seeking departments for the party in power."
He said the "vindictive, selective and malicious manner" in which Chidambaram was "persecuted and prosecuted is nothing short of a brazen personal and political vendetta".
The Centre's ruling Bharatiya Janata Party (BJP) hit back at the Congress for defending Chidambaram. The law is now catching up with the Congress, senior BJP leader and information and broadcasting minister Prakash Javadekar said. "It's a case of massive corruption. It's a scam."
Thursday's high-voltage political debate came a day after Chidamabaram's arrest from his residence in New Delhi's Jor Bagh and a courtroom drama preceding it. After the Delhi high court denied him interim protection on Tuesday, his legal team mentioned the matter at 10.30am on Wednesday before a Supreme Court bench, which sent it to be placed before Chief Justice of India Ranjan Gogoi to decide whether it should get an urgent hearing.
After a long suspense that involved Chidambaram's legal team going to the CJI's court to catch his attention, the court's registry listed the matter for Friday.
Later that night, Chidambaram made a surprise appearance at a press conference at the Congress headquarters to declare that he was "engaged in the pursuit of justice".
"There is a widespread impression that grave offences have been committed and my son and I have committed those offences. Nothing can be further from the truth. These are lies spread by pathological liars," he said.
Chidambaram's legal team will seek interim protection from the ED in the special leave petition hearing on Friday, and will also try to seek remedy in the CBI case by asking the denial of the anticipatory bail by the Delhi high court be set aside.
Close Story