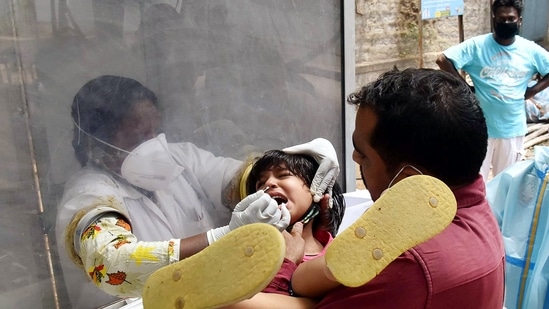 Parents of hospitalised Covid-19 positive children may be allowed to enter ward: Experts
However, for this, the parents would have to be in full PPE kits, according to the panel of experts.
PUBLISHED ON JUN 15, 2021 08:17 AM IST
Parents of a Covid-19 positive child, undergoing treatment in a hospital, could be given permission to enter the coronavirus ward, a committee of experts appointed by the Delhi government has recommended amid concerns over a possible third wave of infections, HT sister publication Live Hindustan has reported.
Also Read: Ahead of third wave, Centre to create trained workforce to handle healthcare
The committee has, however, said that parents would be allowed to enter the ward only in full personal protective equipment (PPE) kits. "Parents would be allowed entry to the ward only if the child is crying incessantly, and if it becomes difficult to handle them without their parents. A separate centre shall be set up within hospitals for parents to stay," a Delhi government official was quoted as saying by Live Hindustan.
Also Read: Sputnik V likely to be available at Delhi hospital from today
Additionally, the panel has suggested that health workers need to be trained to look after children admitted to intensive care units (ICU). Its recommendations also include setting up paediatric ICUs, as well as arranging for more than 10,000 ICU beds to prepare for a possible third wave of Covid-19.
Delhi chief minister Arvind Kejriwal is likely to take a call on the recommendations soon.
Also Read: How can India prepare for the third wave
Various experts, including the central government's principal scientific adviser K Vijay Raghavan, have projected that a third wave of the coronavirus pandemic will hit the country soon. The third wave, the experts have warned, could be particularly hard-hitting for children. This has led to preparations being made on a large scale to protect children from the next phase of the viral disease. Arrangements are being made to test Covid-19 vaccines on children; thus far, only those above the age of 18 are eligible to take a shot against the infection.
Also Read: AIIMS Delhi to begin recruiting children between 6 and 12 yrs for Covaxin trial
Also, the Directorate General of Health Services (DGHS), which comes under the Union ministry of health and family welfare (MoHFW), has issued new guidelines dealing with Covid-19 management in those below 18 years of age.
Close