Sharad Pawar doing well after surgery: Maharashtra health minister
Updated on Mar 31, 2021 02:17 PM IST
NCP chief Sharad Pawar was diagnosed with gallstone on Monday and was to undergo the surgery on Wednesday. But he was hospitalised on Tuesday after he complained of pain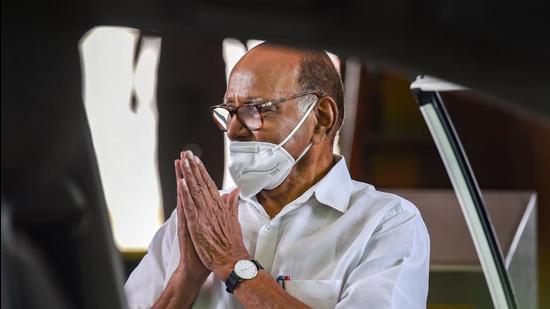 HT Correspondent | Edited by Sameer
Nationalist Congress Party (NCP) chief Sharad Pawar is doing well after undergoing surgery for the removal of a gallbladder stone at a Mumbai hospital on Tuesday, Maharashtra health minister Rajesh Tope said.
"Pawar saheb will get relief from abdominal pain as a stone has been removed successfully. The decision for gallbladder surgery will be taken by the doctors after a few days. Pawar saheb is completely stable and there is no reason to worry," Tope said.
Pawar was diagnosed with gallstone on Monday and was to undergo the surgery on Wednesday. But he was hospitalised on Tuesday after he complained of pain.
Pawar was forced to cancel his programmes after he first complained of pain on Monday. His surgery was rescheduled due to some complications.
Also Read | Pawar, Shah did not hold secret meeting, all rumours must end: Sena MP Raut
"An endoscopic retrograde cholangiopancreatography (ERCP) procedure has been conducted on Pawar saheb to remove gallstone. It doesn't require any surgery. The decision for removing gallbladder will be taken by the doctors once all his parameters become normal," said Nawab Malik, NCP chief spokesperson and minority affairs minister.
"There were some stones in his gallbladder and one of them had slipped into his bile duct, blocking the flow. It caused Pawar immense belly pain, back pain and jaundice due to gallstone pancreatitis. An endoscopic procedure was performed and the stone was removed," Dr Amit Maydeo of Breach Candy Hospital, where Pawar is admitted, told news agency ANI.
In a tweet, Pawar's daughter and lawmaker, Supriya Sule, on Wednesday said: "Thanking Dr.Maydeo, Dr. Golwala, Dr.Pradhan, Dr.Daftary, Dr. Samdani, Dr. Tibrewala and Breach Candy Hospital Team." She posted a picture with the team of doctors along with her and Maharashtra deputy chief minister Ajit Pawar and Tope.
A few hours later, she tweeted, "Good Morning! Thanking all the Doctors, Nurses and Entire Team Breach Candy Hospital. Hon.@PawarSpeaks Saheb is doing what he loves the most reading his Morning Newspapers!." The tweet also has a picture of Pawar reading a newspaper while sitting on his hospital bed.
Personalise your news feed. Follow trending topics