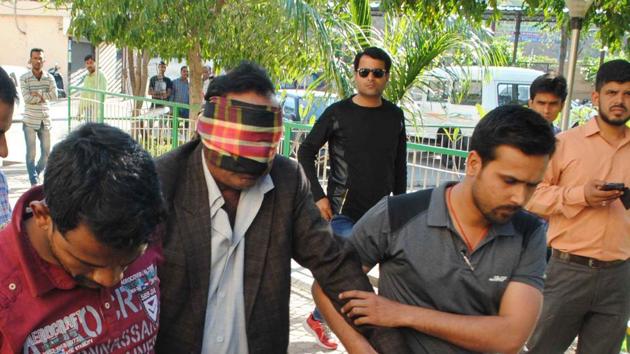 Phone exchanges and hawala: How the Pak spy ring in MP funded their operations
Jabbar, a resident of Urdu Bazar (near Jagat Cinema) in Jama Masjid locality of old Delhi is believed to be the key link in the Pakistani espionage ring which used Chinese Sim Box exchanges converting international calls into local calls to spy on Indian military operations.
UPDATED ON FEB 21, 2017 10:01 PM IST
The Pakistani espionage racket busted by the Madhya Pradesh Anti Terrorist Squad (ATS) on February 9 continued to unravel with the arrest of a 15th suspect - a 27-year-old man in Bihar who is alleged to have been a fund manager.
Manoj Mondal, a resident of Daulatpur village of Bihar's Maoist affected Jamui district was arrested from his native place on Monday and produced before a court in Bhopal on Tuesday.
The court sent Mondal to police remand till February 23. He will now be grilled by the ATS team across the table with two other suspected operatives of Pakistan's spy agency ISI - 62-year-old Abdul Jabbar from Delhi and 23-year-old Sanyog Singh of Chhatarpur in MP - who too are in ATS custody till Thursday.
According to ATS sources, the probe has revealed that Mondal is another fund manager (like Balram and Rajjan Tiwari Satna of Satna, MP) who were allegedly routing funds of Pakistani handlers to spies including Satwindar and Dadu in Jammu and Kashmir. The two spies were arrested in Jammu in November 2016.
The ATS' questioning of men arrested for running illegal phone exchanges in Madhya Pradesh has revealed that the ISI may have used phone lottery frauds and hawala operators to fund its spying network in India.
In the last few weeks the Madhya Pradesh Police have busted at least 20 parallel telephone exchanges run by alleged ISI operatives that masked international calls as local and routed them into local GSM networks using Chinese equipment.
These calls, say police, were used by the Pakistani espionage agency ISI for spying and staying in touch with its operatives in India.
According to sources in the Madhya Pradesh ATS which is probing the international call aided spying ring, the questioning of three of the 15 men arrested in the case so far has revealed the ISI's funding plan for the alleged spy network.
The three -- Satna residents Balram Singh and Rajjan Tiwari and Sanyog Singh, a cousin of Balram who lived in Delhi -- had helped their Pakistani handlers park about Rs 10 crore in various bank accounts in the last two years, a senior state police official said.
The money-making enterprise was well oiled, the probe by the ATS team headed by inspector general Sanjeev Shami has revealed.
The ISI's "communication desk or managers" used five VoIP gateways (mostly operating from Dubai and even China) to help the men in MP and other parts of India operate exchanges.
These exchanges converted overseas calls to local GSM network calls and were charged at rates lower than those of local service providers.
These exchanges offered cheap international calls to locals as well and earned anywhere between Rs 1 lakh to Rs 1.5 for the men operating these phone centres under the garb of IT consultancy services.
These men, which includes BJP leader Dhruv Saxena, were being paid a monthly commission by VoIP gateways and Pakistani handlers through hawala operators for the money earned through the clandestinely run exchanges, sources said.
The money came from fraudulent lottery calls made through these exchanges by ISI agents in Pakistan to Indian citizens. The callers would tell people they had won a lottery through a draw of phone numbers but would have to pay a small amount to get the money.
They would give them account numbers where the money could be sent. Several people fell for the trick.
Police unearthed more than 250 accounts in 25 bank branches in Satna and Rewa districts where the money was parked. These accounts were managed by commission agents (acting as fund-clearing houses).
As soon as the money used to come into the accounts, their Pakistan handlers would ask Balram and Rajjan to withdraw it. Balram and Rajjan would then transfer the money to accounts of Pakistani spies directly or via hawala operators.
A portion of the lottery fraud money was also transferred into bank accounts managed by Sanyog Singh in Old Delhi. Sanyog would take out the money and hand it over to Jama Masjid resident Abdul Jabbar, arrested in Delhi on Saturday night.
Jabbar, a garment exporter would invest in garment exports business in Delhi. Many of the importers who worked with Jabbar are believed to be Pakistani handlers of the spy network, sources said, adding that the Delhi businessman fudged bills to route the money into export-import business.
Jabbar's family has denied the charges and insist that he has been framed.
Close