PM Modi accepts Virat Kohli's fitness challenge, to post workout video soon
May 24, 2018 10:18 AM IST
After sports minister Rajyavardhan Singh Rathore started the #HumFitTohIndiaFit campaign on Twitter, Indian cricket team skipper Virat Kohli issued a fitness challenge to Prime Minister Modi, MS Dhoni and wife Anushka Sharma.
"Challenge accepted!" was Prime Minister Narendra Modi's response to cricketer Virat Kohli's fitness challenge on Twitter on Thursday. The PM, a strong proponent of yoga, also promised to share his own fitness challenge video soon.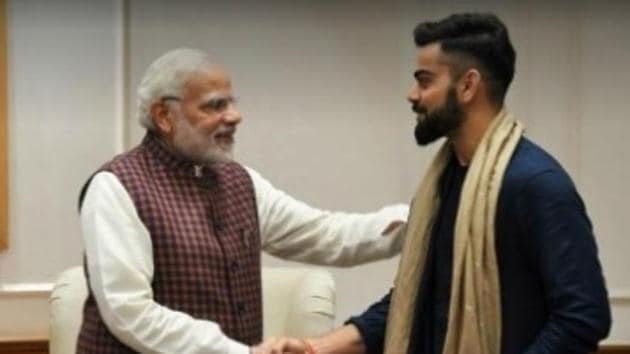 The Indian skipper issued the challenge to the Prime Minister, cricketer MS Dhoni and actor wife Anushka Sharma as a part of sports minister Rajyavardhan Singh Rathore #HumFitTohIndiaFit campaign on Twitter.
Modi is known to be a votary of yoga and follows a regular fitness regime. Speaking about his fitness routine in a Google hangout, the Prime Minsiter said, "I am equally energetic from morning till night. I guess the secret behind it is yoga and [breathing exercises]. Whenever I feel tired, I just practice deep breathing and that refreshes me again."
Rathore, who launched the campaign on Wednesday, urged Indians to shoot a video of their "fitness mantra" and share it on social media. The Athens Olympics silver medallist did 10 push-ups in the video and praised Modi, the source of his inspiration for staying fit.
Accepting Rathore's challenge, Kohli posted a video of him doing butt plank.