PM Modi, council of ministers to take oath at 7 pm on Thursday
President Kovind had appointed Narendra Modi as Prime Minister on Saturday, minutes after leaders of the 40-member national coalition NDA called on him after electing the PM as the coalition's leader.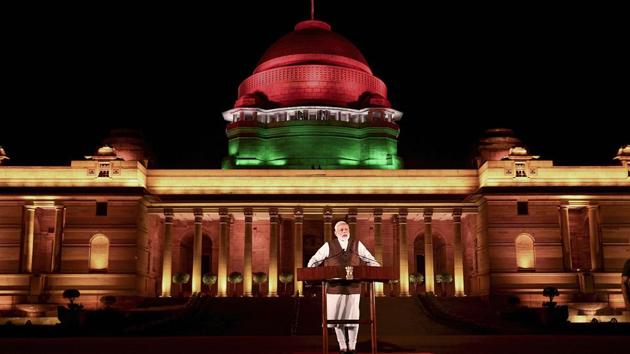 Updated on May 26, 2019 11:54 PM IST
Narendra Modi will be sworn in as India's prime minister for a second term on Thursday evening, along with other members of the Union council of ministers, the Rashtrapati Bhavan has said.
"The President will administer the oath of office and secrecy to the Prime Minister and other members of the Union council of ministers at 7pm on May 30, 2019, at Rashrapati Bhavan," read the statement issued on Sunday.
It was not immediately clear who else would take oath of office and secrecy along with the PM.
President Ram Nath Kovind on Saturday designated Modi as the next Prime Minister and asked him to form the new government.
On Thursday, addressing party workers at the BJP headquarters soon after the results for the general elections were declared, Modi said: "For the next five years, every Indian will have to pledge to transform India into a strong nation. The mission will require the same spirit as the one witnessed during the freedom struggle. We can make India a strong nation by 2022, before we complete 75 years of Independence."
At the forecourts of Rashrapati Bhavan on Saturday, he told reporters his government is committed to the development of a New India. HT reported last week that the new Modi government would start his second stint not with a 100-day agenda, but with a 1,000-day agenda that would run up to the first half of 2022.
Modi was unanimously elected as the leader of the National Democratic Alliance (NDA) on Saturday. Soon after, an NDA delegation led by BJP president Amit Shah, along with Parkash Singh Badal, Rajnath Singh, Nitish Kumar, Ram Vilas Paswan, Sushma Swaraj, Uddhav Thakeray, Nitin Gadkari, K Palaniswami, Conrad Sangma and Neiphiu Rio, visited Rashtrapati Bhavan to hand over a letter to the President stating Modi's election as the leader of the BJP parliamentary party. Letters of support from NDA constituent parties were also handed over to the President.
Modi then called on the President to stake his claim to form the next government. The NDA has a strength of 353 MPs in the 543-member Lok Sabha out of which the BJP has a majority of 303 MPs.
Meanwhile, the Election Commission (EC) on Sunday announced lifting of the model code of conduct (MCC). The code came into the force with the announcement of elections on March 10, 2019.
(With inputs from PTI)
Close Story