Won't tolerate those who speak of dividing country, says Amit Shah
BJP chief Amit Shah said that the BJP had created a "record" in honouring women while the Congress had done nothing for them despite being in power for a long time.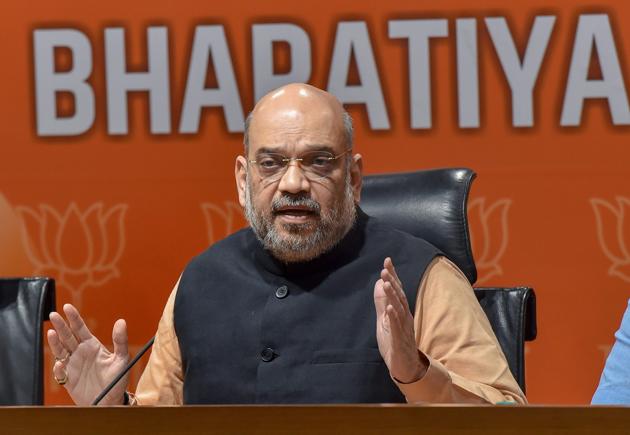 Updated on Oct 15, 2018 11:41 PM IST
Hindustan Times, Bhopal |
Ranjan Srivastav
BJP president Amit Shah on Monday accused Congress chief Rahul Gandhi of raising a "hue and cry" over the arrest of "urban Naxals" who allegedly plotted to assassinate Prime Minister Narendra Modi, and said the government would not tolerate those who speak about dividing the country.
"The Maharashtra government arrested urban Naxals and found through their email exchange that they wanted mortar guns and machine guns. They were plotting to kill Modi," Shah said, speaking at a BJP workers' gathering at Rewa, Madhya Pradesh. "But when they ('urban Naxals') were arrested, Rahul baba (Rahul Gandhi) and company raised a hue and cry... Naxals were arrested, but he saw (it as an issue of) freedom of speech," he added.
Asserting that nobody would be allowed to harm the country's security, Shah said, "Rahul baba, you can see whatever you want to, but there is a rule of Narendra Modi government... The voices which talk of dividing the country would be sent behind bars."
Maharashtra police had arrested five rights activists on August 28 in connection with an FIR lodged following a conclave held on December 31 last year that had later triggered violence at Koregaon-Bhima village.
Attacking opposition on the issue of infiltration at rallies in Rewa, Satna and Jabalpur, Shah alleged that they sympathised with infiltrators. "The BJP government identified 40 lakh infiltrators by creating National Register of Citizens in Assam. But the opposition raised a hue and cry," Shah said, adding that Congress "weakened country's security".
"Nobody remembers human rights when infiltrators plant bombs to kill the country's mothers and sisters. The country's youth remain unemployed as these infiltrators snatch away jobs. They are a vote bank for the Congress, but for us, they are a national security issue," he said.
The BJP government would drive "each and every infiltrator" out of the country after winning elections in 2018 and 2019, Shah said. He said the Congress did not do anything against triple talaq for 70 years. "The Congress was afraid of losing votes. This time the BJP government came and in one go triple talaq was scrapped."
State Congress media in charge Shobha Oza said, "Congress doesn't need a certificate from those who didn't take part in the freedom struggle and stood by the British whereas the Congress fought the freedom struggle and made sacrifices for freedom of the country."
Close Story