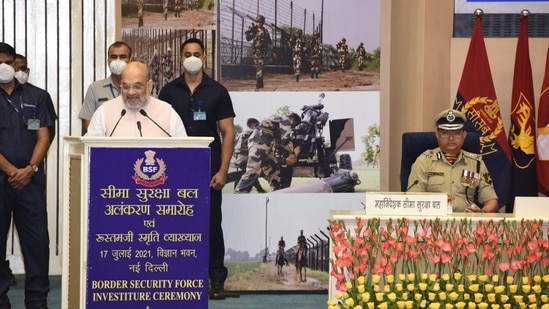 PM Modi gave India a defence policy, no one can challenge our borders now: Shah
In the context of the recent drone attack at Jammu airbase, Amit Shah said that the DRDO and other agencies are coming up with countermeasures.
PUBLISHED ON JUL 17, 2021 12:11 PM IST
Union home minister Amit Shah said on Saturday no one can challenge India's borders and its sovereignty after Prime Minister Narendra Modi's crafted a separate defence policy for India. "There was no separate defence policy before Prime Minister Narendra Modi came to power in 2014. Either it was the foreign policy that dictated the defence policy or the foreign policy overlapped with the defence policy. Today, due to this initiative no one can challenge Indian borders and sovereignty," Amit Shah said.
In the context of the recent drone attack at Jammu airbase, Amit Shah said that the DRDO and other agencies are coming up with countermeasures. "We have to prepare for use of artificial intelligence and robotics by Pakistan based terror groups. This goes beyond the use of drones for attacks from across the borders," Shah added.
Also read | Another Pak drone intrudes Indian space on LoC, fired upon by soldiers
He was speaking during the Border Security Force's (BSF's) investiture ceremony. The Union home minister also felicitated personnel of BSF for their service to the nation and also delivered the Rustamji Memorial Lecture.
"I salute those who have made the supreme sacrifice. These brave hearts and warriors cannot be forgotten. India has a place of pride on the world map due to BSF and our paramilitary forces who are protecting the borders," Amit Shah said.
Two ministers of state Ajay Kumar Mishra and Nisith Pramanik, home secretary Ajay Bhalla and two intelligence chiefs were also present at the ceremony. BSF's director general Rakesh Asthana delivered the welcome address.
Amit Shah tweeted about the ceremony on Friday.
"Looking forward to felicitating our brave BSF personnel for their outstanding service to the nation, tomorrow, at the 18th Investiture Ceremony of this valiant force. Will also deliver the Rustamji Memorial Lecture," Amit Shah posted on Twitter.
Also read | Blazing sun no deterrent to BSF jawans manning barbed fence along Indo-Pak border
BSF has been observing its investiture ceremony since 2003 in memory of KF Rustamji, the force's first director general. "...the legendary and one of modern India's most celebrated Police Officer popularly known as the Founding Father of BSF... The extraordinary vision & steadfast leadership of Shri K F Rustamji shaped BSF early in its existence. His charismatic personality later made BSF into a formidable fighting force. He has a special place in the hearts of all Seema Praharis protecting the borders of our nation," BSF said in a tweet.
BSF was raised on December 1, 1965, with 25 battalions and now the force has more than 265,000 personnel with 192 battalions including three disaster management battalions.
Topics
Close