PM Narenda Modi to meet triple talaq victim, speak in UP's Shahjahanpur
Hindustan Times, Lucknow |
Chandan Kumar
Aug 20, 2019 08:16 PM IST
A Bareilly cleric has issued a fatwa against Nida Khan. Prime Minister Modi will her after speaking at a public rally.
Prime Minister Narendra Modi will meet Nida Khan, a victim of instant triple talaq against whom a fatwa has been issued by a Bareilly cleric, during his upcoming visit to Shahjahanpur on Saturday. An estimated 2 lakh supporters are expected to attend the rally.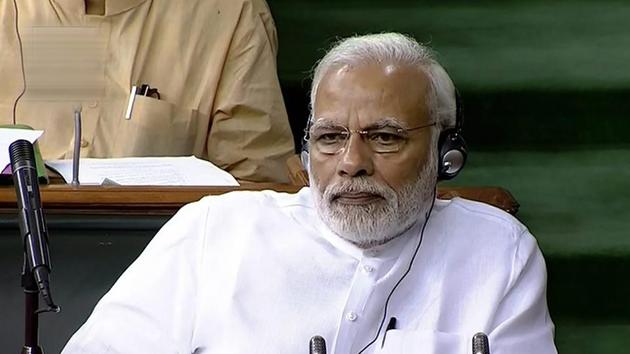 Farhat Naqvi, sister of Union minister Mukhtar Abbas Naqvi, will also accompany Nida Khan.
Both have been formally invited by BJP MLA from Bareilly Papu Bhartol aka Rajesh Kumar Mishra. "The MLA told me that the Prime Minister would meet us in Shahjahanpur during the rally," said Farhat Naqvi.
Based in Bareilly, the two women have been vocal against the practice of nikah halala and instant triple talaq. Nida (23), who was married to Ahmed Raza Khan aka Ala Hazrat and was allegedly harassed by her in-laws and was later given instant triple talaq. She lodged a police complaint against domestic violence and harassment in 2016. Farhat Naqvi is also pursuing a case against her in-laws after being separated from her husband.
The duo came into spotlight again this week when Barelvi clerics issued a fatwa against Nida. "Nida Khan has been ousted from Islam for questioning the practice of triple talaq and halala," Md Khurshid Alam Razvi, imam of Jama Masjid mosque in Bareilly, said in a press conference on July 16. Commenting on Farhat Naqvi, Razvi went on to say that "Farhat Naqvi shouldn't comment on halala and instant triple talaq because she is from Shia community."
The fatwa led to a furore and was criticised by senior clerics and politicians alike. Nida has refused to recognise the fatwa and decided to approach the Supreme Court against it. The SC has already termed the practice of instant triple talaq unconstitutional. Uttar Pradesh Minority Commission has also taken cognizance of the matter and sent a two-member team to look into it.
The bill outlawing instant triple talaq and laying down punishment for Muslim men who use it — the Muslim Women (Protection of Rights on Marriage) Bill, 2017 — was passed by Lok Sabha in December. It is yet to be cleared by the upper house.