Poonch: 2 army jawans killed in attack on patrolling party by Pakistan's BAT
Updated on Jun 23, 2017 07:47 AM IST
This was the third Border Action Team attack in Poonch this year.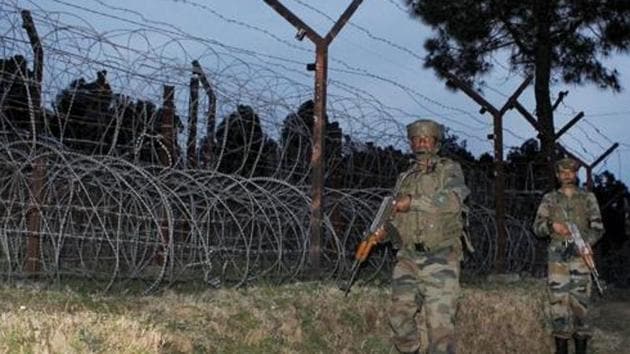 Hindustan Times |
, Jammu/srinagar
Ravi Krishnan Khajuria and Abhishek Saha
The Pakistani army's Border Action Team (BAT) ambushed an Indian patrol and killed two soldiers in Jammu and Kashmir's Poonch district on Thursday amid heavy artillery and machine gun fire on the frontier.
The Indian army shot dead two BAT gunmen in retaliatory action in the Chakan-da-Bagh area of KG sector along the Line of Control, the de facto border between the two nations.
The slain soldiers, naik Sandip Jadhav and sepoy Savan Mane, both from Maharashtra, were among the 10-member border patrol.
Also, the army shot dead three Lashkar-e-Taiba (LeT) militants in the morning in Pulwama district of south Kashmir.
The killings triggered protests in the area and a young man, Tawseef Hussain Wani, died after a tear smoke shell hit his neck. At least 60 people were wounded in the clashes with security forces.
The militants — Majid, Shakir and Irshad — were from Kashmir. Majid was accused of murdering two village headmen, grenade attacks and a bank robbery.
The mob violence erupted after their burial, forcing security personnel to deploy riot-control measures, police said.
On the border, Pakistan continued to target Indian frontier posts and villages. The shelling provides cover to the BAT, which is a rogue ragtag force of heavily armed terrorists and army regulars.
These teams often sneak into the Indian side of the LoC and ambush patrols.
On May 1, India lost junior commissioned officer Paramjit Singh of Amritsar and BSF head constable Prem Sagar of Dewaria in Uttar Pradesh in a similar attack in the KG Basin sector. The bodies were mutilated and their heads taken away, an act that triggered international outrage against Pakistan.
An army officer said the two slain soldiers on Thursday were not mutilated.
"We killed two BAT members but can't say if they were Pakistani soldiers. Another member was grievously wounded. He was helped by his comrades to escape under heavy cover fire from Pakistani posts," he said.
The patrol was moving between two posts and the BAT laid an ambush midway.
The officer said the Pakistanis were 600 meters within India. "It's a sneak attack by a typical BAT team comprising five to seven members."
Besides, the army shot dead a militant trying to cross through the LoC in north Kashmir's Keran sector.
The border attack came on a day a 31-member team of Pakistan Rangers offered a chaddar, or ceremonial cloth, at the shrine of Baba Chamliyal at Dugh village in Ramgarh sector, 45 km from Jammu.
They traded sweets, sherbet and niceties with BSF troopers even as the two countries traded fire on the LoC.
Personalise your news feed. Follow trending topics