Protests in Assam against Centre's proposal to hand over Kaziranga, 3 monuments to private entities
The state government said they will write to the Centre for Kaziranga's exclusion.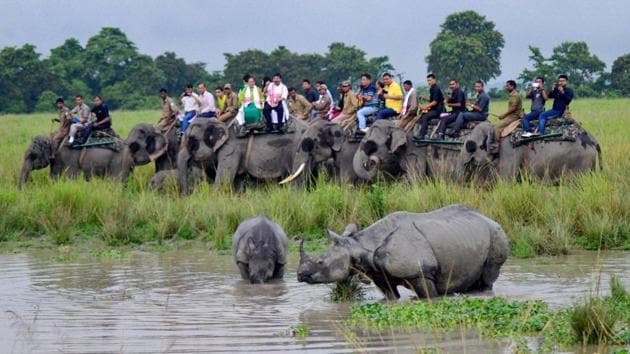 Updated on May 03, 2018 06:56 PM IST
Protests have erupted in Assam against the Centre's Adopt a Heritage project that proposes handing over of four sites in the state to companies and individuals to develop them, amid similar opposition to the government's move to allow leading corporate group to maintain the iconic Red Fort in Delhi.
Three Ahom-era monuments in Sibsagar and Kaziranga national park are proposed to be handed over as part of the scheme, which envisages the development of amenities for nearly 100 sites including the Red Fort and Char Minar in Hyderabad.
The scheme, launched in September last year by President Ram Nath Kovind, is being opposed by organisations like All Assam Students Union (AASU), Krishak Mukti Sangram Samiti (KMSS) and others in the northeastern state.
"These properties are the pride of Assam. We will oppose tooth and nail any move to hand over them to private entities under the guise of maintenance," KMSS leader Akhil Gogoi said.
Former chief minister Tarun Gogoi also opposed the move.
"Assamese people are the owners of these properties. How did the Centre make such announcement without asking the owners?" he questioned.
The state's Bharatiya Janata Party-led government has decided to write to the Centre and also held talks with protesting groups after the opposition to the project.
"We will write to the Centre for Kaziranga's exclusion. We respect the protests. Under directions from the chief minister, we will meet protesting groups to sort out the issue," tourism minister Chandan Brahma said.
Chairperson of Assam Tourism Development Corporation (ATDC) Jayanta Malla Baruah also expressed surprise at Kaziranga's inclusion in the list. He stressed that the scheme would focus only on maintenance of facilities like toilets, parking etc. by companies and individuals.
Besides Kaziranga, the three other sites are Rang Ghar, an eighth-century amphitheatre, Kareng Ghar, the Ahom royal palace and Siba Doul, a Lord Shiva temple. The three Ahom-era monuments are under the Archaeological Survey of India (ASI) and Kaziranga - the only national park in the list - falls under the state forest department.
Opposition parties have questioned the Union tourism ministry's decision last week to allow the private entity to maintain the Red Fort with the Congress accusing the government of bartering away symbols of India's freedom movement.
The Dalmia Bharat Group, under the memorandum of understanding, would maintain the 17th-century monument and build basic infrastructure around it and has committed a sum of ₹25 crore for the purpose over a period spanning five years.
Close Story