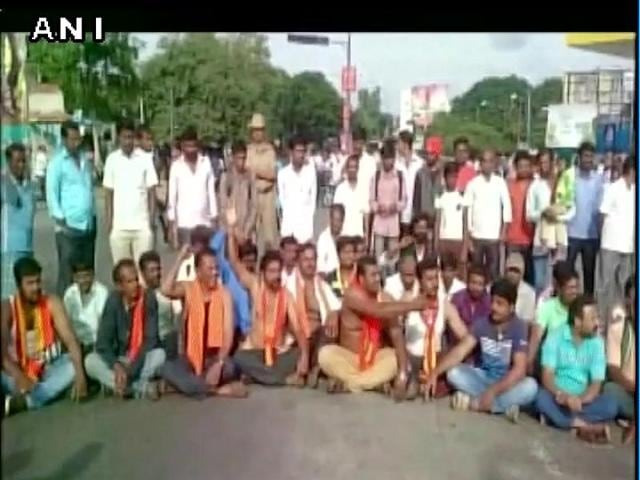 Protests in Karnataka against SC direction to release Cauvery water
A bandh has been called in Mandya district of southern Karnataka on Tuesday by farmers and pro-Kannada outfit activists to protest against the Supreme Court directive asking the state to release 15,000 cusecs of water per day for next ten days to neighbouring Tamil Nadu.
UPDATED ON SEP 06, 2016 11:33 AM IST
Cauvery Horata Samiti activists and farmers blocked roads in the Shrirangapattana taluk of Mandya on Tuesday to protest against a Supreme Court directive asking Karnataka to release 15,000 cusecs of water per day for next 10 days to neighbouring Tamil Nadu.
A bandh was called by the pro-Kannada outfit on Monday. Around 2,400 police officers were deployed to monitor the situation.
Tamil Nadu state transport buses were halted at Hosur Border Bus Stand due to protests in parts of Karnataka. Krishna Raja Sagara Dam and Brindavan Gardens have also been closed to the public for four days.
Karnataka chief minister Siddaramaiah called an all-party meeting to discuss the Cauvery river water issue and the apex court's order on the matter.
Meanwhile, TB Jaychandra, Karnataka law minister, appealed to the public not to take law and order in their hands and to maintain peace.
"We know that the Supreme Court is the highest court in the country. We have to oblige to their orders. My appeal to public is not to resort to agitation and keep calm. They should cooperate with the state government," Jaychandra told ANI.
Samithi president and former MP G Made Gowda had on Monday urged the government to file a review petition in the apex court. He said he had spoken to state water resources minister MB Patil over phone and urged him to safeguard the interest of Karnataka farmers.
The farmers' leader also warned the government that it would face a strong agitation if water was released to Tamil Nadu.
Protests also broke out in parts of Karnataka, including Chamrajnagar, Mysuru and Hubballi, where farmers and pro-Kannada activists demonstrated against the Supreme Court order and urged the Siddaramaiah government to protect interests of Karnataka farmers and not release water to Tamil Nadu.
Police said effigies and posters of Tamil Nadu chief minister J Jayalalithaa were burnt in some places in these districts.
A group of farmers tried to enter the KRS Reservoir in Mysuru protesting the court direction, but police prevented them.
'Karnataka Okkuta', led by Vatal Nagaraj, called for a 'Karnataka bandh' on September 9.
"There is no water in Bengaluru, Mysuru, Mandya and Chamrajnagar, and that is the truth. We have called for Karnataka Bandh on September 9 to protest against the injustice meted out to farmers here," Nagaraj told reporters.
Passing orders on a petition by Tamil Nadu, the Supreme Court noted that damage would be caused to samba crops in the neighbouring state and directed Karnataka to release water.
Close