In Amit Shah's citizenship bill push, a message to migrants in Mamata's Bengal
The bill proposes to amend the Citizenship Act, 1955, and seeks to grant citizenship to illegal non-Muslims from Bangladesh, Pakistan and Afghanistan, who allegedly suffered religious persecution there and returned to India before December 31, 2014.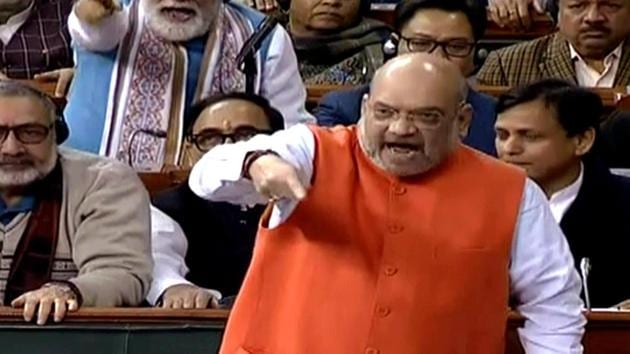 Updated on Aug 03, 2020 04:31 AM IST
Home Minister Amit Shah opened the debate on the citizenship amendment bill in the Lok Sabha on Monday, rebutting the opposition charge that the change in law that fast-tracks citizenship for non-Muslims from Pakistan, Bangladesh and Afghanistan discriminates against anyone.
"You prove that this bill discriminates against anyone and I will withdraw it," Shah told the Congress-led opposition in the Lok Sabha as he requested members to consider passing the legislation.
"This bill gives rights to people (who have faced religious persecution)… it does not snatch anyone's (existing) rights," Shah said, rebutting suggestions that the bill was driven by the ruling Bharatiya Janata Party-led government's politics.
ALSO WATCH | Citizenship Amendment Bill: Amit Shah cites partition, targets Congress in LS
"There is no political agenda behind this bill. There is no question of doing injustice to anyone. With the passing of this bill, lakhs of crores of people will get rid of torturous life and become citizens of India," he said.
The NDA government had introduced an early version of the citizenship bill in parliament during Narendra Modi's first term in office. But the bill got stuck in the Rajya Sabha where it did not have the majority.
The bill to relax rules for minorities from the three countries is seen to be designed to insulate non-Muslim communities from these countries, essentially Bangladesh, who may not be able to prove their citizenship.
In Assam where an effort to update the citizens' register is on, a significant proportion of the 1.9 million residents left out are Hindus. In neighbouring West Bengal that is seen to be high on the BJP's radar, chief minister Mamata Banerjee and her party have pointed to the Assam experience to underscore that the citizens' register proposed by the Centre would spare no community.
It is in this context that Amit Shah had, during his public meetings in Bengal, messaged non-Muslims that they did not need to be worried about the citizens' register that was designed to identify illegal immigrants, or infiltrators.
Bengal Chief Minister Mamata Banerjee on the other hand, has promised to block any effort to execute the NRC in her state. But there have been multiple reports of people queuing up at local government offices to get themselves identity documents that they hoped would insure them against a drive against non-citizens.
Amit Shah appeared to allude to the race for identity documents in Bengal when he promised non-Muslim migrants from Bangladesh that they had no cause for concern.
"Don't be afraid. Whether you have a ration card or not, we will give you citizenship," he said; the assurance was seen to respond to panicked villagers in Bengal trying to bolster their citizenship claim with a ration card or other identity documents.
Shah also underlined that most parts of the northeast were outside the purview of this law and asked people to end protests.
The Congress has alleged that the bill has been brought in to distract people from the failures of the BJP-led government on NRC and the economic front.Congress leader Gaurav Gogoi said the bill is in violation of many articles of the Constitution and the basic spirit of the Preamble which talks of equality, liberty and fraternity.
"It seems that the the NRC was nothing but a political exercise for the BJP because when 40 lakh were excluded, Home Minister Amit Shah jumped and termed them infiltrators. Many of them turned out to be Indians," Gogoi said.
"We respect the fact that our Constituent assembly envisioned a secular state. No one should be discriminated on the basis of religion. But it is also the duty of the state to protect its borders and identify the refugees and intruders," said Shah.
Expressing his sympathy with non-Muslims of Afghanistan, Pakistan and Bangladesh, Shah said that they fled their countries when life became unbearable for them and the bill will provide a life of dignity and respect to them in India.
"No one leaves their country easily. No one wants to leave their village. But lakhs of people fled their countries out of the anxiety and torment they faced there and now they have been living in India without access to basic facilities like education and health facilities," Shah said.
He said the migrants have been living their life like a hell in India after fleeing persecution. "After this bill, they will get rights and respect," he stated
Addressing concerns of the people of Northeast, he said, "We are also committed to protecting the socio and linguistic and cultural identity of people of Northeast."
Close Story