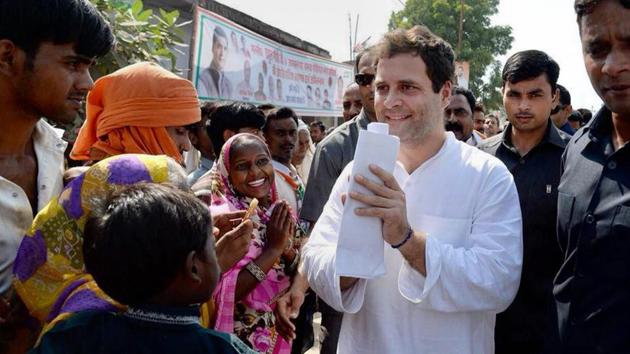 Modi should deliver instead of making excuses: Rahul Gandhi in Amethi
The Congress vice president was having an informal chat with newspersons in Tiloi on the second day of his three-day visit to his constituency.
UPDATED ON OCT 05, 2017 10:16 PM IST
Congress vice-president Rahul Gandhi on Thursday asked Prime Minister Narendra Modi to stop making excuses and deliver on his promises, a day after Modi complained about "pessimism" spread by "some people" in the country.
Gandhi said the PM should show magnanimity in admitting that he had not been able to deliver on his promises made before the 2014 polls.
"Instead of talking about people creating an atmosphere of pessimism, the PM should admit that he has not been able to deliver in the last three years and say he would fulfill promises in the next one-and-a-half years," Gandhi told reporters in Amethi, his constituency on the second day of his three-day tour.
Speaking at the golden jubilee celebrations of ICSI on Wednesday, Modi had said that the slowdown in GDP in one quarter had become "a big news". "Some people take pleasure in spreading pessimism. They get a good sleep out of it."
In response, Gandhi said shortage of jobs was a serious problem in India and cited statistics to show India was creating lesser jobs per day (450) than China (50,000).
"They (Modi government) are not able to provide jobs… This is a major problem. This is a crisis. Narendra Modi should accept there is a crisis and work to resolve it instead of panicking and making excuses. Time for making excuses is over now," he said.
The opposition leader advised the PM to focus on two issues — creation of jobs and resolving the crisis in agriculture sector.
With BJP president Amit Shah and Union ministers planning to visit Amethi on October 10, Gandhi used the occasion to list 12 major projects, including the under-construction 200-bed hospital at Ludhauria village, and said BJP leaders were trying to take credit and re-inaugurate Congress's projects.
Interacting with party workers in Tiloi assembly segment of Rae Bareli later in the day, Gandhi targeted the PM for his "56-inch chest" remark ahead of 2014 Lok Sabha elections. He said Manmohan Singh delivered more as PM though he did not have a "56-inch chest".
Gandhi highlighted MGNREGA and other schemes launched by the UPA government as achievements of the Manmohan Singh government. He targeted Modi for launching bullet train project by taking loan from Japan and said the amount could have been used to revamp the railways.
Earlier, Gandhi sat on the ground and interacted with the women of self-help groups (SHGs) at Banjaria village.
Close