Rahul Gandhi's gotra is 'Dattatreya', he is Kashmiri Brahmin, says priest
Nov 27, 2018 10:35 AM IST
Dinanath Kaul, the priest, told reporters,"His gotra is 'Dattatreya' and he is a Kashmiri Brahmin. Motilal Nehru, Jawaharlal Nehru, Indira Gandhi, Sanjay Gandhi, Maneka Gandhi and Sonia Gandhi have come and offered prayers at the ghat and it is recorded with us."
Offering prayers at Pushkar Sarovar, Rahul Gandhi called himself Datattreya Brahmin, his priest who carried out rituals informed. "During the puja here, a pilgrim is required to take names of his parents and the name of kul (sub-caste) he belongs to," said Dinanath and Rajnath Kaul, brothers and family priests of the Gandhi family.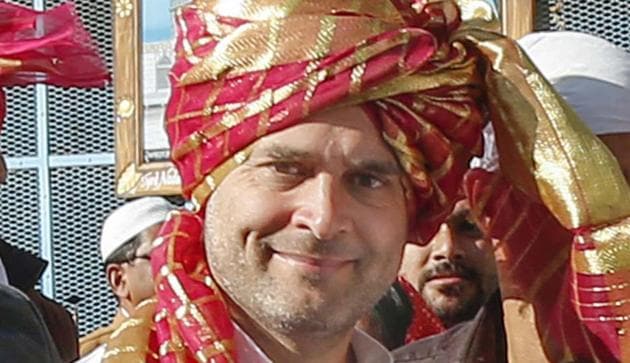 According to Kaul brothers, members of Gandhi family have been visiting Pushkar. Rajiv Gandhi came first in 1983 and later in 1986 after becoming the Prime minister, said Kaul. Sonia visited here twice, in 1998 and 2003, to perform puja, he said."His gotra is 'Dattatreya' and he is a Kashmiri Brahmin. Motilal Nehru, Jawaharlal Nehru, Indira Gandhi, Sanjay Gandhi, Maneka Gandhi and Sonia Gandhi have come and offered prayers at the ghat and it is recorded with us," Dinanath Kaul, the priest, told reporters.
Kaul claimed that he possessed old records, or 'pothi', in which the record of his family tree is registered and the priest's ancestors had made Motilal Nehru, Jawaharlal Nehru and other members of the family do puja at the Pushkar Sarovar.
"(Rahul) Gandhi came and offered prayers at the ghat. He also said his gotra is Dattatreya. Dattatreya are Kauls and Kauls are Kashmiri Brahmin," he said.
The priest also presented documents showing the names of Rahul Gandhi's ancestors who have worshipped at the Pushkar lake.
The Congress chief visited the Ajmer dargah and Pushkar and offered prayers before addressing election rallies.
(With inputs from PTI)