Rain, hailstorm to hit northwest India next week | Top updates
Jan 18, 2023 08:10 AM IST
Several north Indian states registered minimum temperature in the range between 1 and 3 degrees Celsius on Tuesday.
The India Meteorological Department (IMD) has predicted light to moderate rain and hailstorm along with winds in northwest India in the next week. The Met department also predicted a drop in temperature along with heavy snowfall and rain in Himachal Pradesh in the next week. On Tuesday, several north Indian states registered minimum temperature in the range between 1 and 3 degrees Celsius. According to the Met department, Delhi has not recorded any rainfal so far in this winter season due to lack of strong western disturbances in November and December.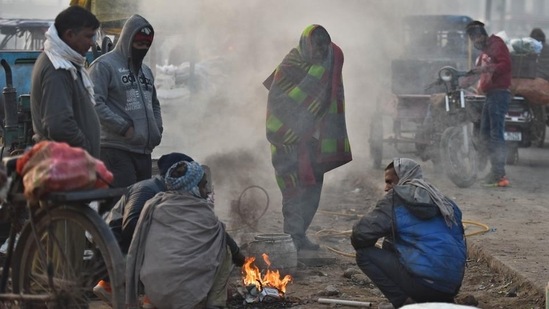 On Tuesday, lowest temperature over plains was recorded at -2.7 degrees Celsius in Rajasthan's Churu.
Read| Two western disturbances likely to affect northwest India: IMD on cold wave
Low visibility due to dense to very dense fog is continuing to disturb train and flight services. Around six trains of Norther Railways have been reportedly delayed today along with several flights running late at the Indira Gandhi International airport.
Here are updates on cold wave in north and northwest India:
No significant change in minimum temperature over plains of northwest Indian and Madhya Pradesh is predicted till today followed with a gradual rise by 4-6 degrees Celsius from January 19 to 21.
Cold to severe cold wave conditions are very likely in parts of Haryana, Punjab, Chandigarh, Delhi and Rajasthan till today. Isolated pockets over Uttarakhand, Uttar Pradesh and Bihar is likely to experience cold wave conditions till tomorrow.
Ground frost conditions are predicted for today in isolated pockets over Himachal Pradesh, Uttarakhand, Haryana, Punjab, Madhya Pradesh, Rajasthan and west Uttar Pradesh.
Dense fog very likely in isolated pockets during night & morning hours over sub-Himalayan West Bengal, Sikkim, Assam, Meghalaya and Tripura during till January 20 and over Bihar and Odisha during till January 19.
Heave snowfall is predicted in Himachal Pradesh and there will be no change in weather in next 48 hours. "The rain and snowfall will continue after January 19 in most of the places in the state. The temperatures in Shimla were recorded at 0 degrees Celsius and Keylong in Lahaul-Spiti recorded the lowest at minus 11 degrees Celsius and the temperature will fall in days to come," a senior official said.
Light to moderate hailstorm is also likely in isolated places over Jammu, Himachal Pradesh, Uttarakhand, Punjab, Haryana, Chandigarh, Delhi, west Uttar Pradesh and north Rajasthan on January 23 and 24. "Winds gusting up to 50 kilometres per hour are very likely to prevail over Punjab, Haryana, Delhi and west Uttar Pradesh occasionally on January 23-24," IMD said.