Ranjan Gogoi, who thinks country needs 'noisy judges', to be top judge
Updated on Sep 04, 2018 03:08 PM IST
Justice Gogoi started his legal career as an advocate in the Gauhati High court in 1978.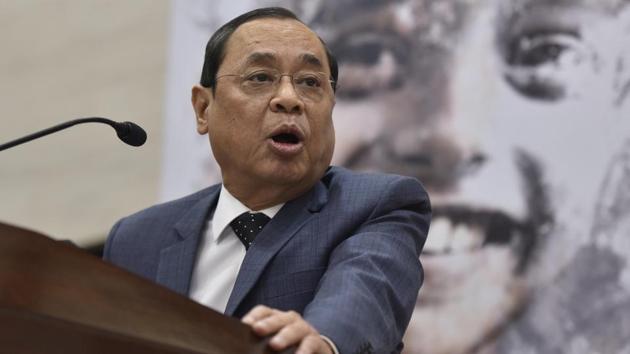 Hindustan Times, New Delhi |
Ashok Bagriya
Justice Ranjan Gogoi, the most senior Supreme Court judge set to be the country's next chief justice, will be the first from the north-east where he had started legal practice as a lawyer 40 years ago.
The soft-spoken judge made national headlines early this year when he, along with three other judges, went public in a move unprecedented in Supreme Court history, and said they had issues with the way in which the chief justice was allocating cases and running the court.
The quartet's decision to address the rare press conference was seen as a bold move by the judges in the legal circles. More so for justice Gogoi, as he was in line to be the next Chief Justice of India and it could have jeopardised his chances for his elevation.
It did not.
On Tuesday, Chief Justice Dipak Misra recommended to the government that the top court's senior-most judge who had openly criticised his decisions just seven months ago, should succeed him.
Justice Gogoi, who has earned a reputation for bluntly speaking his mind, had just a few months ago described "independent journalists and sometimes noisy judges" as democracy's first line of defence.
In this lecture, he had also suggested that the judiciary should "certainly be more pro-active, more on the front foot".
"I will even go ahead to say that the institution, at all levels, needs to become more dynamic in the matters of interpretation of laws," explained the judge, described as noted jurist Soli Sorabjee as "independent, intelligent and courageous".
In the courtroom, Justice Gogoi created quite a flutter in 2016, when he issued contempt notice against a retired judge of the court justice Markandey Katju.
Justice Katju had, in a Facebook post, criticised the top court's verdict in the Soumya rape and murder case that held the accused guilty of rape but not murder. The judgment was authored by a bench headed by Justice Gogoi.
Justice Katju appeared in the court of Justice Gogoi and apologised for the Facebook post, thereby ending the matter.
Justice Gogoi has also been hearing the contentious National register of citizens in Assam case.
He along with justice Nariman are seen to be instrumental in the preparation of the NRC in Assam.
It was by the orders of Justice Gogoi that NRC for Assam is being prepared.
The first draft of the NRC has been published and over 4 million people have been left out of the draft.
The case is still pending in the court and the recently directed the centre to draw up a standard operating procedure to deal with the claims of 40 lakh persons excluded from the National Register for Citizens (NRC) prepared to identify residents of Assam and weed out illegal migrants.