Ranthambore reserve full, two tigers to be relocated to Mukundra
Dec 17, 2017 11:27 PM IST
The Ranthambore reserve has India's third-highest tiger density and forest department has recorded at least eight incidents of territorial 'cat fights' in the last few years.
The roars of Lightning and Cowboy will soon be heard in the Mukundra Hills tiger reserve, where they are being shifted from Ranthambore in what will be India's first relocation of big cats to decongest a wildlife habitat.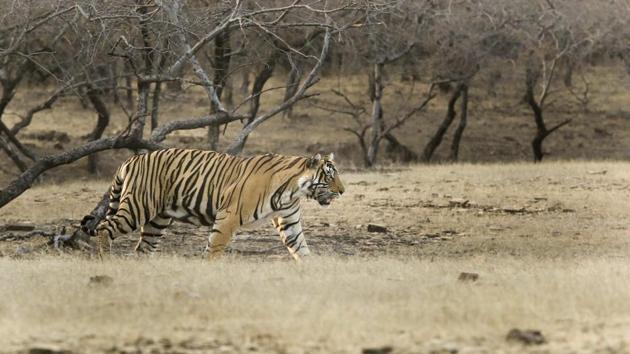 Tigers have been relocated in India to repopulate dying reserves — Sariska (Rajasthan) in 2004 and Panna (Madhya Pradesh) in 2010 — but never before has territorial infighting due to congestion been the reason for a move.
Stay tuned with breaking news on HT Channel on Facebook.
Join Now
In the last few years, the forest department has recorded at least eight incidents of territorial 'cat fights' in Rajasthan's Ranthambore, which has India's third-highest tiger density after the Kaziranga National Park in Assam and the Corbett National Park in Uttarakhand, with an estimated 60 tigers in 392 sq kms.
"The idea is to provide a safe place to the tigers because Ranthambore's core area is now cramped," said deputy conservator of forests, Kota, S R Yadav. Ranthambore field director YK Sahu added that the relocation, which will be effected in about two months, will help ease "territorial pressure" and allow greater genetic diversity.
Lightning and Cowboy —the names given by local tourist guides to the tigers — lost to more powerful mates in territorial fights in Rathambore and were pushed out to the periphery of the forest.
Tigers mark their territory, which is normally 5-10 sq kms, and move out only when physically beaten by a stronger cat. Surviving outside the core area, which doesn't have enough prey, is hard. Lightning and Cowboy have poor hunting skills, and a new habitat is their best option.
Lightning, T-83 in official records, is the granddaughter of Machli, Ranthambore's most famous tigress. She died in 2016.
India's tiger population rose from 1,444 in 2006 to 2,226 in 2014.
A senior scientist at Wildlife Institute of India, YV Jhala said it was good idea to assist the tigers to settle in Mukundra, which has been a traditional home for Ranthambore's tigers.