RSS begins preparations for 2019 Lok Sabha polls
Updated on Jan 20, 2018 08:16 AM IST
Rashtriya Swayamsevak Sangh (RSS) will hold large congregations across the country to propagate its ideology and carry out online campaigns for 2019 general elections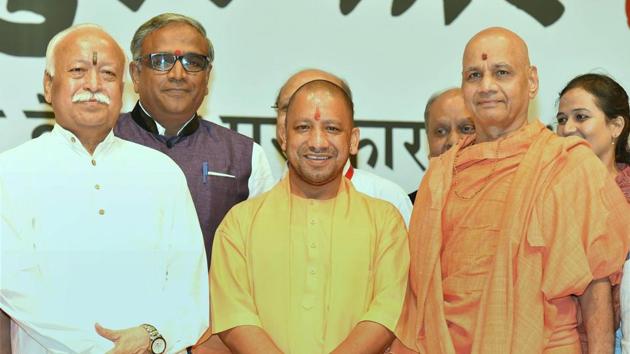 As it forges ahead with the twin purpose of expanding its footprint and garnering support for its protégé BJP ahead of the upcoming elections in eight states and the 2019 Lok Sabha poll, the Rashtriya Swayamsevak Sangh (RSS) will hold large congregations across the country to propagate its ideology and carry out online campaigns.
Starting with Guwahati on Sunday, where RSS chief Mohan Bhagwat will address the largest gathering of Swayamsevaks in the northeastern region, the Sangh has announced outreach programmes to connect with the youth, especially in rural areas and tier II and III cities.
The congregation in Assam — where the Sangh's groundwork was credited for paving the way for BJP's electoral victory — comes ahead of polls in Nagaland, Tripura and Meghalaya.
Last year, the Sangh played a pivotal role in helping BJP wrest control of Manipur.
A senior RSS functionary, who works in the northeastern sector, said Sunday's gathering would not only help propagate the RSS ideology, but also be a show of strength.
"There is a notion that RSS does not have support of people in the region or that we target Christians. These are myths that will be busted," he said on the condition of anonymity.
The Sangh leader said over 40,000 cadre will attend the meeting in uniform. "We have been working extensively to provide basic amenities to the tribal communities, who were largely ignored by previous governments and were prone to conversion, either through force or inducement," he said.
A larger congregation will be addressed by Bhagwat on February 25 in Uttar Pradesh's Meerut.
Ajay Mittal, unit chief of Meerut, said congregation 'Rashtra Uday' aimed to be the largest gathering of over 2.5 lakh cadre.
"Nearly three lakh people ha- ve registered for the event, which is being held on a 1,200-acre plot," Mittal said.
Such large congregations were earlier held in Gujarat in 2000 and in Pune in 2016.
Personalise your news feed. Follow trending topics