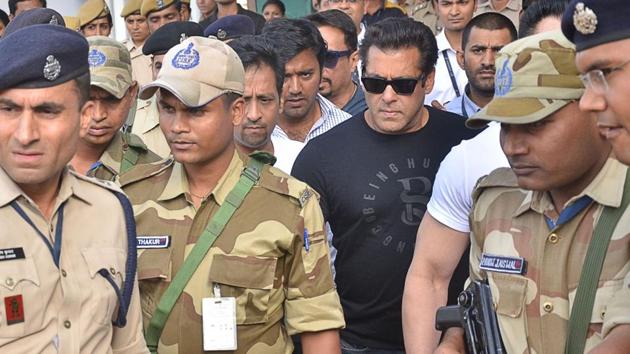 Salman blackbuck case verdict: Snipers, anti-terror squad secure Jodhpur court
Salman Khan and four other actors are accused of killing two blackbucks, an endangered species, in Jodhpur
UPDATED ON APR 05, 2018 11:54 AM IST
The Rajasthan police have put in place a three-layered security around the Jodhpur court, which is expected to deliver its verdict on Thursday in the blackbuck poaching case in which Salman Khan and four other actors are accused. (Live updates)
Snipers have been deployed on the roof tops around the court, said Jodhpur (East) DCP Dr Amandeep Singh Kapoor.
Read: Salman Khan could face up to 6 years in jail, all you need to know
"Apart from the district police, we have deployed emergency response team (ERT) of the Anti-Terror Squad and special commandos to secure the court campus during the case," he added.
One platoon of Rajasthan Armed Constabulary is also deployed on the court campus.
In the case, dating back to 1998, Salman Khan is accused of killing two blackbucks, hunting of which is prohibited under the Wildlife Protection Act, at Kankani village in Jodhpur during the shooting of film Hum Saath Saath Hain.
Actors Saif Ali Khan, Sonali Bendre, Tabu and Neelam Kothari and a local resident, Dushyant Singh, are among the accused in the case.
All the actors arrived in Jodhpur on Wednesday to be present for the verdict. The court proceedings will begin at 10.30 am.
Close