Schools close as Kashmir braces for snowfall, rains over weekend
The Valley is experiencing chilly nights and foggy mornings. Srinagar recorded minus 3 degrees Celsius on Tuesday night.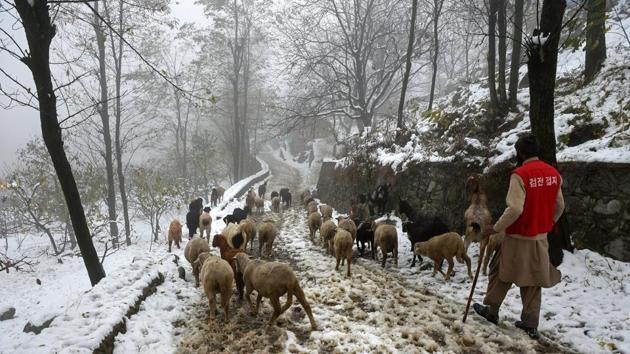 Published on Dec 05, 2018 07:50 PM IST
Hindustan Times, Srinagar | By Ashiq Hussain
, Srinagar
Schools upto class 8 closed for winter vacation in Kashmir on Wednesday amid freezing weather in the region as the weatherman predicted snowfall and rains from Sunday.
The Valley is experiencing chilly nights and foggy mornings. Srinagar recorded minus 3 degrees Celsius on Tuesday night. Officials at Srinagar's weather office said the day temperature was hovering around 11-12 degrees Celsius.
"The sub-zero night temperatures may continue for a few more days till December 9 when we are expecting rains and snow," said meteorologist, M Hussain Mir.
"This is not a cold wave. Normally during this time of the year, we experience temperatures below zero. These can deviate a degree or two from the average which is not an abnormality," he said.
The official said that the wet weather will sustain from December 9 to 13.
Early onset of snowfall
Srinagar received this season's first snowfall on November 3, setting the tone for wet weather early. This was nine years after that the city was draped in white in the month of November.
"This winter, we got more snow and rains. We have already received 100 mm of rains since October 1. Our average from October 1 to December 31 is 105 mm," Mir said.
Owing to chilly weather, authorities have decided to close middle schools for winter vacation.
Classes work from nursery to eighth standard continued till December 4 while classes 9–12 will continue till December 15.
The weatherman has predicted three spells of rains and snow this month — 9-13, 16-17 and later on December 25.
With frequent power cuts, Kangris come to the rescue
People in the region are facing a tough time owing to the chill amid frequent power cuts. Woollens have flooded the market and the sales of Kangris (traditional firepots) and appliances like room heaters and electric blankets have also increased. Many homes have their windows covered with sheets of transparent polythene to keep the rooms cosy.
"Electricity supply plays hide and seek. So we have kept a stock of coal to be used in our Kangris. It is not easy to sustain without the fire-pot here in winter," said Sajad Ahmad, a student from old city.
The intense winter (Chillai Kalan) starts in the Valley from December 21 and lasts for 40-day period followed by Chillai Khurd (20 days which are less intense) and Chillai Bache (10 days of mild cold).
Close Story