Second MLA raises banner of revolt in PDP, terms it as 'family affairs party'
Imran Reza Ansari said he will never be part of the Peoples Democratic Party till it is headed by Mehbooba Mufti and accused her of destroying the party for sake of her family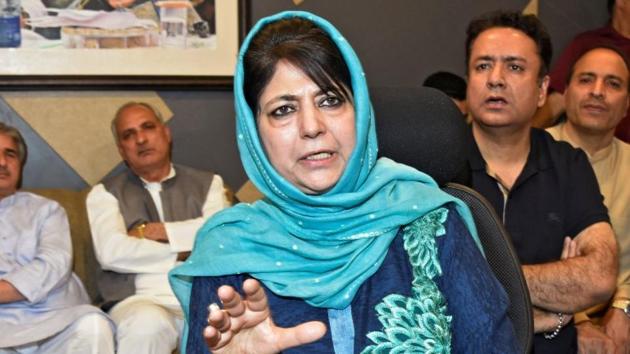 Published on Jul 02, 2018 11:30 PM IST
Hindustan Times, Srinagar |
, Srinagar
Mir Ehsan
Days after the Bharatiya Janata Party (BJP) withdrew its support from the government, a former minister and senior Peoples Democratic Party (PDP) legislator, Imran Reza Ansari termed PDP as a 'family affairs party' and said he will not be part of the Peoples Democratic Party headed by Mehbooba Mufti. He said he is ready to join any other party for the sake of people.
Imran Reza Ansari is the second Peoples Democratic Party legislator who has made strong allegations against the PDP since the party lost power last month.
On Sunday, his uncle Abid Reza Ansari, who is a legislator from Zadibal constituency in Srinagar, had blamed former Jammu and Kashmir chief minister, Mehbooba Mufti, for converting the party into a family fiefdom.
Imran Reza, a legislator from Pattan constituency, told his supporters that he will never be part of the Peoples Democratic Party till it is headed by Mehbooba Mufti and accused her of destroying the party for sake of her family.
Imraz Reza told his workers that the PDP has now become a family affairs party.
"I had already conveyed to Mehbooba Mufti that in this party we are feeling suffocated as there are many black sheep within the party,'' said Ansari in a video that has gone viral on social media. He said that Mufti Mohammad Sayeed never encouraged that his relatives should be inducted in the party. "Now there is brother, uncle, maternal uncle and other relatives who are running this show.''
"I raised this issue when Mehbooba Mufti inducted her brother into the cabinet. I am not alone in this party. There are many legislators who were against turning PDP into family affairs party,'' former education minister Ansari said, adding that he has been saying this when the party was in power.
He said the PDP leadership never took him or other leaders into confidence.
"I am ready for elections and even toured my constituency,'' said Imran who has informed the former CM that he is not part of PDP anymore.
Former minister and PDP chief spokesman Naem Athar said that party will examine the statements of the two legislators. "After studying these statements, we will come up with a proper response.''
On her part, Mehbooba Mufti termed speculation of her meeting with UPA chairperson Sonia Gandhi in New Delhi as fake.
"Amused at media speculations about a possible PDP-INC alliance to form the government in J&K. Conjecture also includes an impending meeting between Sonia ji & I. This is utter fabrication & yet another unfortunate example of #FakeNews!," tweeted Mehbooba Mufti.
Peoples Democratic Party spokesman Rafi Mir told Hindustan Times that Mehbooba Mufti was in Delhi on a personal visit.
Close Story
Personalise your news feed. Follow trending topics