Secularism will fight communalism in Karnataka election: Siddaramaiah
Press Trust of India, New Delhi |
Press Trust of India
Jan 13, 2018 09:55 PM IST
Karnataka chief minister Siddaramaiah was in Delhi to discuss the party's preparedness and strategy for the assembly election at a meeting called by Congress president Rahul Gandhi.
Karnataka chief minister Siddaramaiah said on Saturday the upcoming assembly polls in the state would be a battle between two ideologies -- communalism and secularism.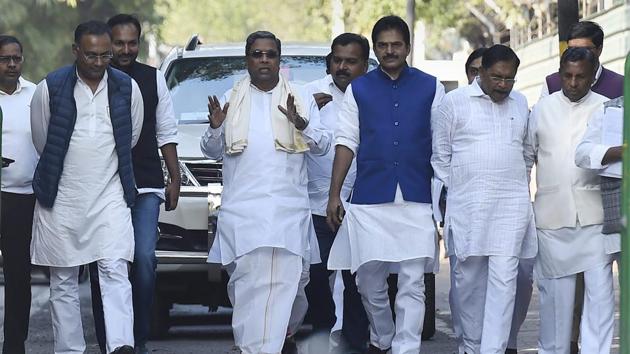 He also denied that there was an anti-incumbency factor for the Congress and said the party would retain power in the southern state by winning the polls with a "comfortable majority".
Siddaramaiah was in the national capital to discuss the party's poll preparedness and strategy at a meeting called by Congress president Rahul Gandhi, which lasted for about three-and-a-half hours.
Gandhi is scheduled to launch the first leg of his party's poll campaign in Karnataka on February 10. The state is expected to go to the polls in March-April.
"This (election) will not be a battle between me and (BS) Yeddyurappa. It will not be a contest between me and (Prime Minister) Narendra Modi. It will be a battle of two ideologies -- secularism and communalism," Siddaramaiah told reporters after the meeting.
Karnataka Congress president G Parameshwara, working presidents SR Patil and Dinesh Gundu Rao, the party's Karnataka in-charge KC Venugopal were also present at the meeting, besides senior leaders Mallikarjun Kharge, K Rahman Khan, KH Muniyappa, Oscar Fernandes and Veerappa Moily.
This was the first meeting called by the Congress president on the Karnataka polls after last month's Gujarat assembly election.
Siddaramaiah said the party's poll preparedness was reviewed in detail at the meeting and its strategy chalked out.
"He (Gandhi) is very happy with the functioning of the party (in Karnataka) and the (state) government. Our government is not facing any anti-incumbency. We will win the upcoming polls with a comfortable majority," he added.
Siddaramaiah claimed that the Congress had not only honoured all the promises it had made in its manifesto for the previous state polls, but "even some of the programmes not in the manifesto were implemented".
"Therefore, the chances of winning are very high and I am confident that the party will come back to power again," he said.
Claiming that the BJP had no poll agenda for the state, Siddaramaiah said, "They (BJP leaders) are raising irrelevant issues in Karnataka. That will not work."
Even the Hindutva issue raised by BJP president Amit Shah and Uttar Pradesh chief minister Yogi Adityanath were not a matter of concern for the Congress, he claimed.
"They (BJP) are following (Hindutva) sans humanity. Being a Hindu myself, I follow it with humanity," Siddaramaiah said.
Venugopal said senior leaders had assured the party president that they would work in "unity" and win the upcoming Karnataka polls.
"The BJP is trying to polarise the people because they have no other slogan or programme. Similarly, other parties are also up to some mischief or the other. But the Congress party is confident of winning the polls," he added.