'Sena parted ways with BJP and not Hindutva': Uddhav Thackeray in Ayodhya
"The BJP does not mean Hindutva. Hindutva is different and the BJP is different," Uddhav Thackeray said, according to news agency ANI.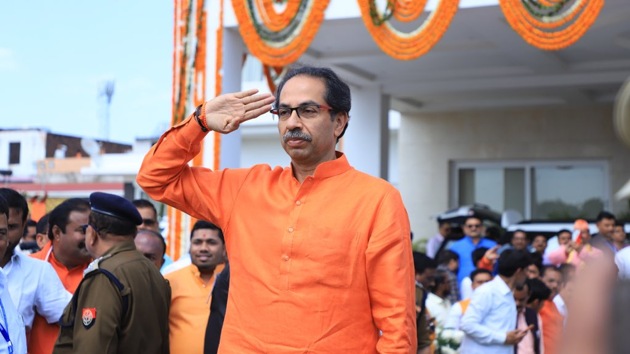 Updated on Mar 07, 2020 05:28 PM IST
Hindustan Times, New Delhi |
HT Correspondent
Uddhav Thackeray said on Saturday he severed his ties with the Bharatiya Janata Party (BJP) but not with Hindutva while visiting the temple town of Ayodhya in Uttar Pradesh for the first time after he became the chief minister of Maharashtra.
The Shiv Sena chief was speaking at a press conference just minutes before his visit to the makeshift Ram temple in Ayodhya.
"I have parted ways with the Bharatiya Janata Party (BJP), not Hindutva. BJP and Hindutva are not the same. BJP is not Hindutva," Uddhav Thackeray said.
He was referring to the break-up with his party's longtime ally after a squabble over the issue of power-sharing in the state. After cutting off its ties with the BJP, the Shiv Sena formed a government in the state in alliance with the ideologically different Nationalist Congress Party and Congress.
The announcement about Thackeray's visit to Ayodhya had sparked off allegations that it was an attempt by the Sena to keep its Hindutva agenda alive and those of diluting its stand on the issue after joining hands with the NCP and Congress.
Also read: Inside the Shiv Sena-BJP split: Cracks appeared before Lok Sabha polls
Senior Shiv Sena leader Sanjay Raut had refuted claims, saying "we do not need to do these gimmicks for Hindutva".
Thackeray also announced a donation of Rs 1 crore from his trust as a contribution toward the construction of the temple.
"Not as the chief minister or from the government of Maharashtra, I am contributing this money because I am a devotee of Lord Ram," he said.
Thackeray also expressed a wish to construct a Maharashtra Bhavan in Ayodhya, as a pilgrim centre for residents of Maharashtra to visit Ayodhya's Ram Temple.
"Yesterday I spoke to [Uttar Pradesh] chief minister Yogi Adityanath and requested him to identify and give land to Maharashtra government so that we can construct a Maharashtra Bhavan in Ayodhya," he said.
The Sena chief has made trips to Ayodhya on two previous occasions—once in November 2018 and then again in June last year.
Also read: Uddhav Thackeray completes 100 days as CM, will visit Ayodhya
On his third visit on Saturday, he was accompanied by his son and state tourism minister Aaditya Thackeray and members of Parliament Sanjay Raut, Arvind Sawant, Rahul Shewale.
Shiv Sena ministers Eknath Shinde and Anil Parab, and many other party leaders and municipal councillors from the state also accompanied him. Congress minister Sunil Kedar was also present.
Saturday's visit was timed to coincide with the completion of the Maharashtra Vikas Aghadi (MVA) government's 100 days in office. Uddhav Thackeray took charge of the state on November 28, 2019.
"When I came to Ayodhya to take blessing from Lord Ram for the first time in November 2018, I had said, 'I will visit again, and I will visit again, and I will keep visiting. Every time I have come here, I have returned with blessings of Lord Ram, and good things have come my way," he said.
"I came in November 2018 amid the uncertainty of whether the temple will be built and who will build it. Then the Supreme Court verdict came. Exactly one year after my visit, I became the chief minister of Maharashtra, something I had never dreamed would happen. I came before Lok Sabha elections with all MPs and we had a good victory in Maharashtra," he added.
Thackeray is scheduled to return to Mumbai on Saturday evening after seeking blessings at the Ram Lalla temple.
An aarti planned on the banks of the Sarayu River was cancelled owing to the threat from coronavirus. Thackeray instead said he will visit again for the aarti.
Close Story